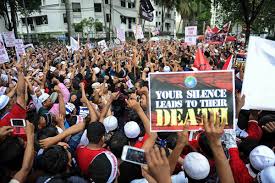 A day after signaling a rare admission of atrocities against Rohingya Muslims at the hands of authorities, Myanmar today marked a U-turn blaming fabricated stories and incorrectly captioned photographs for what it termed as an a 'misunderstanding' concerning Rakhine State.

 

"Such intentionally fabricated news and photos were sent to international media, human rights organisations and governments in an attempt to cause misunderstanding about Myanmar."the statement releseased by Myanmar reads.
According to statements released by the Bangladesh Foreign Ministry, thousands of Rohingya Muslims fleeing violence have taken refuge in Bangladesh, amidst tales of harrowing human rights abuse like rapes, beatings and torture by security officials.

 

The reports have been taken note of by international media and various NGOs, garnering widespread condemnation for Myanmar and its actions.

 

The Myanmar government on its part has long denied any allegations of wrongdoings and claimed that security officials have been hunting down extremist who attacked police outposts.

 

In a complete turnaround from its earlier stand, the Myanmar government had released a statement on Monday in reaction to a video that had surfaced showcasing the brutality of security forces while dealing with Rohingya Muslims. The government had promised to look into it and and take necessary steps.

 

A senior UN official accused Myanmar on November 24 of seeking to ethnically cleanse the country of its Muslim minority, as Bangladesh stepped up border patrols and summoned the Myanmar ambassador to complain about the exodus, the Guardian reported.