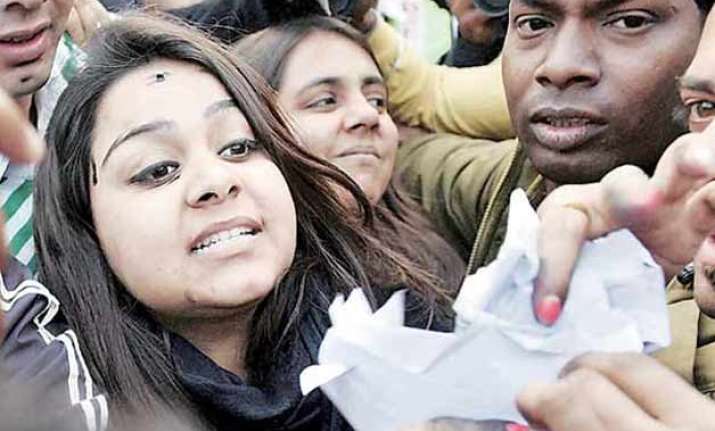 New Delhi: The girl who attacked Delhi CM with ink has been arrested and a case has been registered against her, Delhi Police Commisioner BS Bassi said.
Responding to the allegation by AAP that yesterday's incidence was a major security lapse, Bassi said, " Our PRO has already given statement, these allegations are unfoundedAll necessary security arrangements were made."
Bhawna Arora, the girl who threw on Chief Minister Arvind Kejriwal during Delhi government's celebration event for the success of odd-even scheme on Sunday, appeared before a Rohini court today.
Bhawna, who identified herself as the Punjab unit chief of the Aam Aadmi Sena -- an outfit claiming to fight the AAP, was released last night on a personal bail bond.
The police said Bhavna Arora belongs to the "Aam Aadmi Sena" a splinter group of Aam Aadmi Party formed by party rebels.
"They have done scam in CNG and I have evidence to support it," the woman claimed.
She also claimed AAP government's ambitious odd-even formula, aimed at curbing air pollution in the capital, was a positive step but behind that there was a big CNG scam.
She said, "I wanted to meet CM and Gopal Raiji, but they didn't agree to meet."
Bhawna further claimed that she had a CD and some documents that would expose AAP government's involvement in the CNG scam.
On being asked about the proof she had, she said, "I will submit all papers and the sting before the court. Investigation should be done in the matter."
Smelling political conspiracy behind the incident, Delhi Deputy Chief Minister Manish Sisodia said, "It is a breach of security. Whole cabinet was present, but there was no policeman present."
A day after Deputy Chief Minister Manish Sisodia blamed police of "no security" and "conspiracy" after a woman threw ink at Delhi Chief Minister Arvind Kejriwal, Delhi Ppolice chief BS Bassi said the "allegation is misconceived".
Bassi, while talking to media, said the allegations against Delhi Police were untrue and baseless as police had made adequate and necessary security arrangements at the Chhatrasal Stadium in north Delhi where the incident occurred.
"Any such allegation is misconceived and unfounded," the police commissioner said on Monday. "The girl who attacked Delhi CM with ink has been arrested and a case has been registered against her."
Just after the incident, Sisodia alleged it was a "conspiracy" to attack Kejriwal and his ministers and blamed Delhi Police saying that there was no security arrangement.