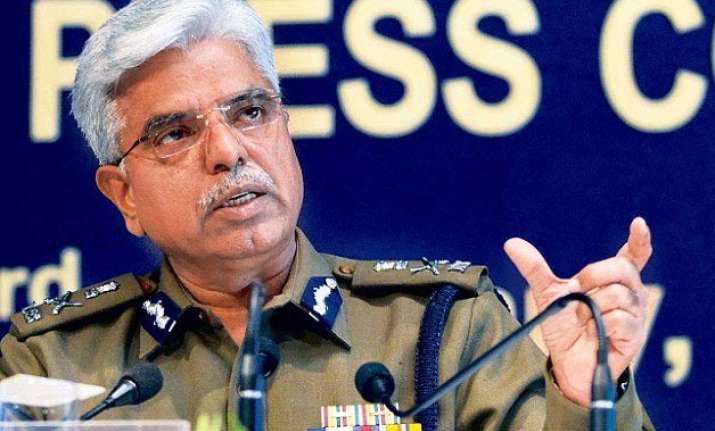 New Delhi: A day after Deputy Chief Minister Manish Sisodia blamed police of "no security" and "conspiracy" after a woman threw ink at Delhi Chief Minister Arvind Kejriwal, Delhi Police chief B.S. Bassi said the "allegation is misconceived".
The Delhi Police commissioner on Monday met Home Minister Rajnath Singh and explained the ink attack issue.
Bassi, while talking to media, said the allegations against Delhi Police were untrue and baseless as police had made adequate and necessary security arrangements at the Chhatrasal Stadium in north Delhi where the incident occurred.
"Any such allegation is misconceived and unfounded," the police commissioner said on Monday. "The girl who attacked Delhi CM with ink has been arrested and a case has been registered against her."
A woman, later identified as Bhavna Arora, alleging a "CNG scam" in the Aam Aadmi Party (AAP) government threw ink at Kejriwal on Sunday at the public gathering at the Chhatrasal Stadium. The function was held to mark the "success" of the odd-even traffic restriction scheme. But she missed the target.
Arora was arrested on charges of obstructing public servant in discharge of public function, assault on public servant and intentional insult with intent to provoke brach of peace.
Just after the incident, Sisodia alleged it was a "conspiracy" to attack Kejriwal and his ministers and blamed Delhi Police saying that there was no security arrangement.
"There was no security provided by Delhi Police. It is a conspiracy by the BJP and Delhi Police are also involved in it," Sisodia said after the incident.
Sisodia and the Aam Aadmi Party (AAP) also accused the Bharatiya Janata Party and Delhi Police of conspiring to attack Kejriwal.