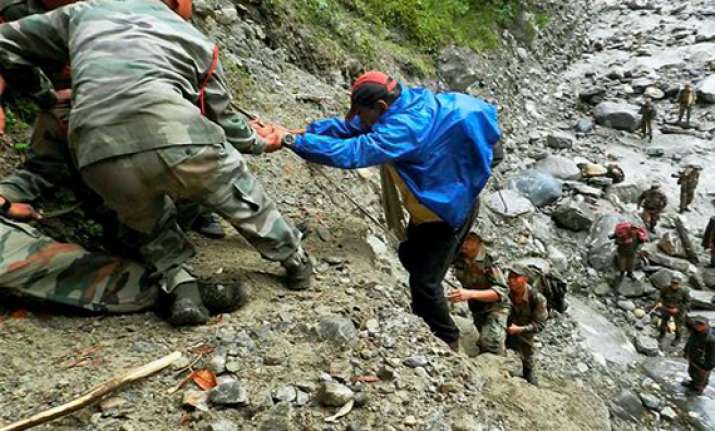 Guptkashi, Jun 28: After the Army, ITBP, and NDRF personnel, it's now the turn of Marine Commandos (MARCOS), who were today airlifted to Kedarnath to start the search for missing persons.
Six MARCOS commandos left in a chopper, armed with long ropes and relief material. The commandos were brought from Mumbai.
They will head for Tashigaon, and search for pilgrims stranded inside the forests of Triyugi Narayan. 
Sources said, torch lights have been seen for the last 2-3 days from inside the deep forests, and it was then decided to call in the MARCOS.
MARCOS commandos are adept in naval warfare, commando actions, both on land and sea, and also in forests. They were last seen in action during the 26/11 Mumbai terror attacks.
Just like the US Navy Seals commandos, MARCOS  is an elite special operations unit of the Indian Navy, created for conducting special operations like amphibious warfare, counter-terrorism, direct action, special reconnaisance, unconventional warfare, hostage rescue, personnel recovery, asymmetric warfare and counter-proliferation.
Rescuing pilgrims from dense forests was never imagined when the list of tasks for MARCOS was being prepared.
It was originally named Marine Commando Force.
MARCOS   has gradually acquired experience and a reputation for professionalism over the two decades it has been in existence. Now it is one of the finest Special Forces units in the world and among the few units qualified to jump in the water with a full combat load.
The MARCOS are capable of undertaking operations in all types of terrain, but are specialised in maritime operations in Jammu and Kashmir through the Jhelum River and Wular Lake, a 65 square kilometer freshwater lake.
Some MARCOS personnel are also attached with the Army special forces units conducting counter-terrorism operations in the area.
MARCOS are widely feared among the terrorists, who call them "Dadiwala fauj", meaning the "Bearded army" because of their bearded disguise in civil areas.
MARCOS have also been known to carry out wide variety of operations in foreign soil.