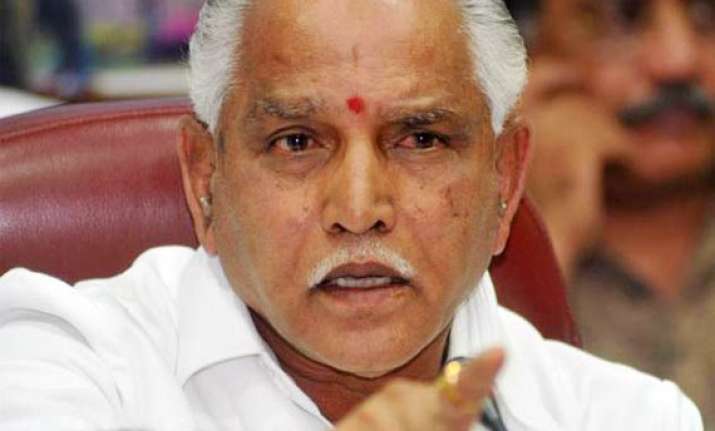 Port Louis, Mauritius, July 22: Beleaguered Karnataka chief minister B S Yeddyurappa, presently holidaying in Mauritius, has brushed aside demand for his resignation saying that  he was 100 per cent sure he had not done anything wrong.
 
Speaking to an Indian news channel,  Yeddyurappa said, he would be leaving Mauritius on Sunday to Delhi, but denied that he was being "summoned" by his party high command.
 
Yeddyurappa said: "I am in touch with my All India leaders. These allegations about illegal mining had been surfacing since the last two and a half years as soon as I became chief minister. I have not given a single licence so far."
 
The Karnataka chief minister said, he had himself written a letter to the Prime Minister and had told him at the National Development Council meeting  to stop granting of mining licences in the states.  "Previous chief ministers in Karnataka had given licences. So why should I cut short my visit?"
 
On the Lokayukta's report holding him and four other ministers responsible for illegal mining, Yeddyurappa said he would wait for the report to come and then react.  "So far, the report has not been submitted. Everything that is being said is based on rumours."
 
Asked whether he did benefit anybody, he said: "Not at all. For the last six months so many times it has been discussed. I have not given benefits to anybody. I am 100 per cent sure there is no truth in the allegations. Why should I worry? My party is with me."
 
In Delhi, the BJP spokesperson Rajiv Pratap Rudy said the party is awaiting submission of the report and then it will come forth with an "adequate reponse".
 
Rudy pointed out that the report has also pointed fingers at External Affairs Minister S M Krishna, who was the then chief minister. He also said that the Lokayukta has himself said the report is yet to be given a final shape.
 
On the other hand, the Congress fielded its big guns Kapil Sibal and Abhishek Manu Singhvi to demand Yeddyurappa's resignation.
 
Sibal said, BJP must introspect,  accept the truth and ask the chief minister to resign. "BJP's doublespeak must end. What the Lokayukta has said was known to us several months ago."
 
Sibal also pointed out to what he called irregularities in land allotments in Bihar and the National Rural Health Mission funds bungling in UP. He said, the Lokpal Bill will be brought before the Union Cabinet next week and will be placed in Parliament in the Monsoon Session.
 
Congress spokesperson Abhishek Manu Singhvi said, Yeddyurappa has lost all moral and legal rights to remain in his post. "BJP is guilty of unadulterated hypocrisy and devastating double standards. The time for reckoning has come. The chickens have come home to roost."
 
Singhvi went to the extent of reciting a popular Urdu couplet : "Hum aah bhi bharte hain to ho jaate badnaam, wo qatl bhi karte hain, to charcha nahin hota (We are defamed when we even let out a sigh, but there is no mention if they commit a murder)." 
 
Meanwhile, the Karnataka Governor H R Bharadwaj said today that he would act on the Lokayukta report after he gets a copy of it.  "Hegde is a very competent person. Whatever he will recommend, I will definitely go through it."
 
Retired Justice Santosh Hegde, the Lokayukta who has created the storm, today said he would be handing over his report to the Chief Secretary on Monday.