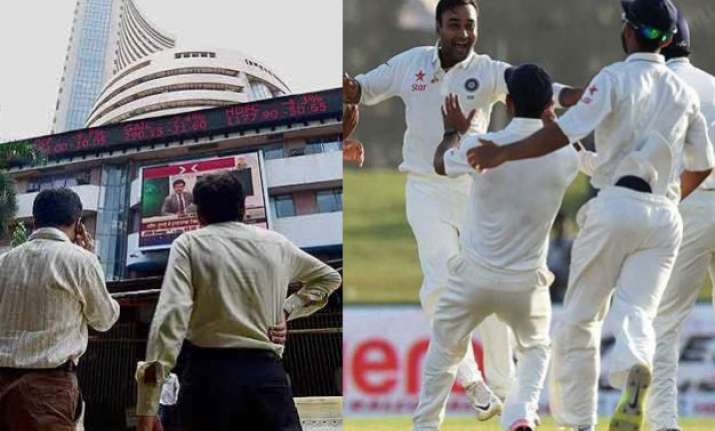 Mumbai:  In a stock market bloodbath, benchmark Sensex on Monday sunk 1,624.51 points to end the day at 25,741.56 — the biggest in over seven years  amid a global rout, while more than Rs 3 lakh crore got wiped out of the investors' wealth.
The broader Nifty index of NSE sunk 491 points to end the day at 7,809.85 Finance Minister Arun Jaitley, speaking at an annual conference in New Delhi, said India faced multiple challenges emanating from global economic developments.
New Delhi: Rattled over cancellation of NSA-level talks, Pakistan's National Security Advisor Sartaj Aziz has accused India of acting like a regional superpower.
In a veiled threat, Sartaj Aziz also threatened Prime Minister Narendra Modi that Pakistan is a nuclear-armed country and it knows how to defending itself.
Colombo: Indian spinners Ravichandran Ashwin and Amit Mishra spun a web around Sri Lanka to skittle them out for 134 runs in the second innings to win the second cricket Test by 278 runs here on Monday.
Sri Lanka were 130/9 at lunch with India needing just a wicket to level the series and the hosts could add only four runs to their total in the post-lunch session. With the win, India level series at three-match 1-1 at the P. Sara Oval ground.
Kathmandu:  Ethnic protesters demanding statehood in western Nepal attacked police with spears and knives Monday, leaving at least six officers and three protesters dead and many others injured.
Government Administrator Raj Kumar Shrestha said the injured were taken to regional hospitals and the death toll was expected to rise. Local news reports said it could be as high as 20.
Hamburg:  A UN tribunal today asked both India and Italy to "suspend" all court proceedings involving two Italian marines charged with killing of two Indian fishermen in 2012 and also refrain from initiating new ones that might "aggravate or extend" the dispute.
Hearing Italy's appeal in the case, the President of the International Tribunal on Law of the Sea (ITLOS), Vladimir Golitsyn asked the two countries to submit the initial report in the entire incident by September 24.