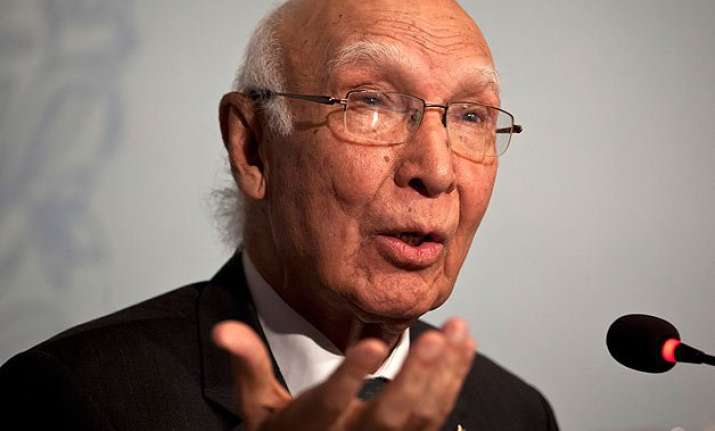 New Delhi: Rattled over cancellation of NSA-level talks, Pakistan's National Security Advisor Sartaj Aziz has accused India of acting like a regional superpower.
In a veiled threat, Sartaj Aziz also threatened Prime Minister Narendra Modi that Pakistan is a nuclear-armed country and it knows how to defending itself.
"Modi's India acts as if they are a regional superpower, we are a nuclear-armed country and we know how to defend ourselves," Aziz was quoted as saying by the Dawn newspaper.
Aziz's remarks came two days after Pakistan cancelled the NSA-level talks with India saying the dialogues would not serve any purpose if conducted on the basis of the two conditions laid down by Narendra Modi and Nawaz Sharif in Ufa.
India had objected Pakistan High Commission's decision to invite Kashmiri separatists for talks with Aziz in New Delhi saying that agenda of talks is only limited to terrorism and not other.
"India should realise after the current episode that their tactics are not working, and they need to be sincere about dialogue with Pakistan," Aziz said further.
Aziz also said that while Pakistan has evidence of India's involvement in terrorism in his country, New Delhi has just propaganda against Pakistan.
"Propaganda against Pakistan is more important for the Indians, rather than giving us evidence," Aziz said. He also asked India to hold a referendum in 'occupied Kashmir' and the people would decide their own fate.