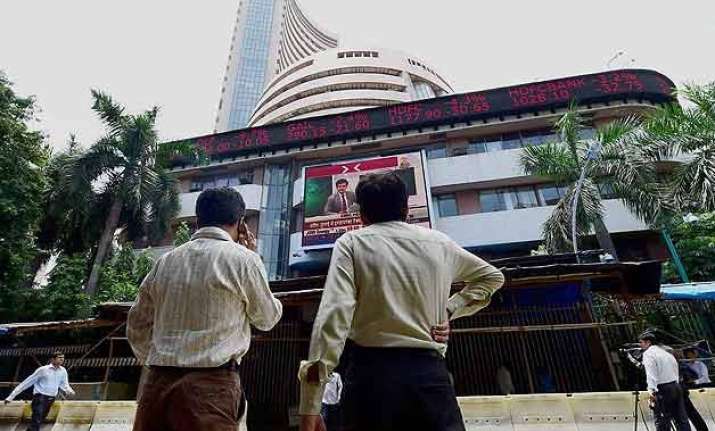 Mumbai: In the worst-ever carnage in stock market, benchmark Sensex today crashed by 1,624.51 points and nearly Rs 7 lakh crore got wiped out from the investors' wealth as rout in Chinese stocks triggered a global sell-off.
The intra-day fall was even larger at 1,741.35 points -- the third biggest ever and highest in over seven years since January 21, 2008, even as Finance Minister Arun Jaitley and RBI Governor Raghuram Rajan, among others, sought to allay the fears and said fundamentals of Indian markets remain strong.
The BSE's 30-share index closed the day at 25,741.56 points, down 5.94 per cent (1624.51 points), as stocks across all sectors including energy, banking, auto, IT, infrastructure and real estate saw massive selling as investors turned jittery amid a global carnage.
The total investor wealth, measured in terms of cumulative market value of all listed stocks, plunged by nearly Rs 7 lakh crore and crashed below Rs 100-lakh crore mark to end the day at Rs 95,33,105 crore.
The broader 50-share NSE Nifty too witnessed heavy selling pressure and plunged by 490.95 points to 7,809.00.
Asian markets were also in deep red with Shanghai shares closing more than 8 per cent down, while European shares were also down close to 3 per cent in their early trade.
Markets will settle down… the government and RBI are watching the situation closely," Jaitley said.
"These days with a globally integrated economy, no day is an easy day," the finance minister said, adding that the Indian economy is in a revival state and that there was a fear over a US Fed rate hike.
"China is creating ripples, resulting in a transient impact on India." the minister was quoted as saying. RBI Governor Raghuram Rajan assured investors that the country was in a better position compared to many other economies.
"I wish to reassure markets macroeconomic factors under control; Country has $380 bn of forex reserves as and when to be used," he said.
The overall investors' wealth, measured in terms of total valuation of all listed stocks, was also down nearly Rs 3.5 lakh crore as it crashed below Rs 100-lakh crore mark and stood at Rs 97,64,237 crore in early afternoon trade.
The loss suffered by the 10 biggest companies in terms of market capitalisation was itself close to Rs 2 lakh crore. This is the biggest crash in seven and a half years and the third biggest ever for the BSE benchmark index.
Interestingly, eight out of the top-10 intra-day falls took place in the year 2008. Today's fall is biggest since January 21, 2008 when the Sensex crashed by 2,062.2 points.
The market was witnessing all-round heavy selling across realty, power, oil&gas, bankex, auto, metal, capital goods and IT sectors. The 50-unit Nifty fell below the psychological 8,000-mark, while Sensex was seen moving close to 26,000.
The rupee, too, slumped to as low as 66.48 per dollar, its lowest since September 2013, as Asian markets reeled under fears of a China-led global economic slowdown.
The rupee was at 66.41/42 by 09.03 am, down from its close of 65.8250/8350 on Friday. A strong dollar demand from importers and banks, and heavy losses in domestic equity markets weighed on the local currency, forex dealers said.
The rupee dropped even as the US dollar weakened against other major global currencies overseas amid mounting global economic slowdown worries.
The rupee had lost 29 paise to close at two-year low of 65.83 against the US dollar on Friday on high demand for greenback from banks and importers. Among major Sensex losers, ICICI Bank fell by 4.5 per cent, Infosys by 3 per cent, Axis Bank by 5.3 per cent, Reliance by 4 per cent and HDFC by 3 per cent.
Tata Motors fell by over 6 per cent. Vedanta and GAIL Ltd also fell up to 6 per cent. Meanwhile, crude prices fell after slipping below USD 40 barrel for the first time in six years after weak Chinese manufacturing data.
Among other Asian markets, Shanghai Composite dived 8.35 per cent, Japan's Nikkei dropped 3.10 per cent and Hong Kong's Hang Seng 3.26 per cent. The US Dow Jones Industrial Average ended 3.12 per cent down in Friday's trade.
Attributing the stock market crash to global turbulence, Finance Minister Arun Jaitley today said the government and RBI were watching the situation and hoped that things will stabilise once the transient impact is over.
"There has been for the last few days a great amount of turbulence which was being caused in the global markets.
Obviously that turbulence has had impact on Indian market itself. The factors responsible for this are entirely external.
"There is not a single domestic factor in India which has either contributed to it or added to it. These are external factors. I have not the least doubt that this turbulence is transient and temporary in nature. The markets will settle down", he said.
Jaitley, who was talking to reporters on the sidelines of an event here said that government and the RBI were closely watching the situation. He also underlined the need for strengthening the economy to deal with the impact of global developments.