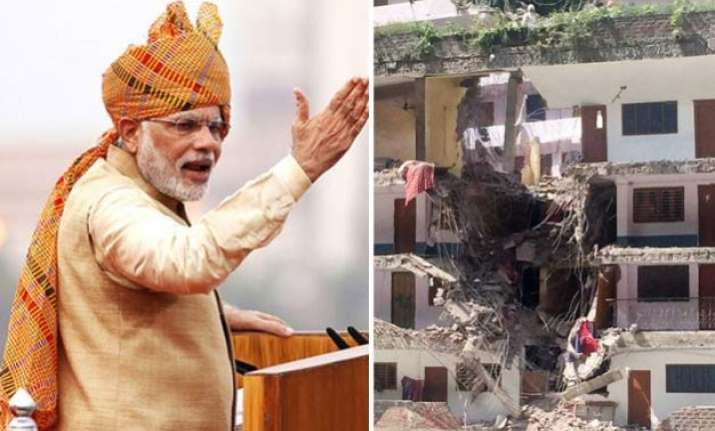 Arrah (Bihar): Prime Minister Narendra Modi today announced a package of Rs.1.25 lakh crore for Bihar and said it will "change Bihar".
PM Modi made this announcement while addressing a rally in Ara.
"I am announcing a package of Rs. 1.25 lakh crore. This package will change the face of Bihar," PM Modi said amid loud cheers from the audience.
Patna: Bihar Chief Minister Nitish Kumar today rubbished Prime Minister Narendra Modi's election-eve Rs 1.25 lakh crore special package as "repackaging of old projects" and took him on for branding the state as BIMARU.  
Kumar also assailed Modi's manner of announcing the economic package, contending it looked like it was "an auction of Bihar".
Manikaran (HP):  Eight persons were killed and ten others injured when a building adjoining the historic Manikaran Sahib Gurdwara caved in due to a massive landslide this afternoon.
Kullu Deputy Commissioner Rakesh Kanwar confirmed that eight bodies which were buried under huge boulders have been extricated while search is on for more.  Eyewitnesses claimed that the dead could be more than ten in number as a large number of people had taken shelter in the building, close to the Gurdwara, when the tragedy struck.  
New Delhi: In an announcement which is expected to bring major relief to several home buyers, the Centre today said the process of demarcating eco-sensitive zone around the Okhla Bird Sanctuary has been cleared and a notification in this regard will be issued within a week.
The announcement by Union Environment Minister Prakash Javadekar came on a day the National Green Tribunal (NGT) directed the Ministry of Environment and Forests (MoEF) to issue within three weeks the final notification on Eco-Sensitive Zone (ESZ) around the sanctuary.
New Delhi: Russia has joined United States in taking a U-turn on India's inclusion in United Nations Security Council, days after both countries along with China opposed negotiations to reform the powerful UN body, refusing to contribute to a text that will form the basis for the long-drawn reform process.
Russian Foreign Minister Sergey Lavrov, in an interview to a news agency, said that while Moscow supports the candidature of India and Brazil for permanent membership in the U.N. Security Council, it also feels that the presence of an African country in this structure is also necessary.