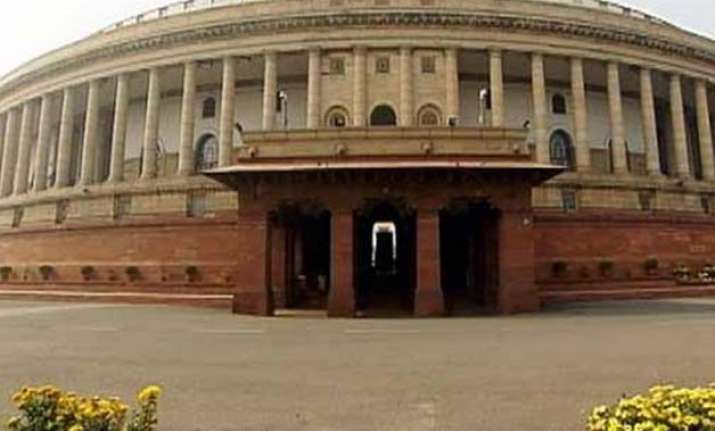 1. Congress MPs to stage dharna in Parliament Complex
New Delhi:
Congress MPs will today stage a dharna in front of the Mahatma Gandhi statue in Parliament Complex to protest against the suspension. Members of other parties are likely to join the protest.
2. TMC not to attend LS to protest suspension
Kolkata: The Trinamool Congress decided not to attend the Lok Sabha from tomorrow to protest the suspension of 25 Lok Sabha MPs, TMC parliamentary party leader Sudip Bandyopadhyay said.
3. FTII students to meet Delhi CM Arvind Kejriwal
New Delhi: The protesting Film and Television Institute of India students, who are demanding removal of BJP member Gajendra Chauhan as FTII's chairman, are scheduled to meet Chief Minister Arvind Kejriwal on Tuesday.
4. Amit Shah to inaugurate Exhibition in Kerala
Delhi: BJP President Amit Shah will today inaugurate Exhibition "An Untold Story of Intolerance : Communist Violence in Kerala" at 3PM at NDMC Convention Centre, Sansad Marg
5. SP to felicitate 1100 old people associated with Samajwadi ideology
Lucknow: Samajwadi party will today felicitate 1100 old people who are associated with Samajwadi ideology. Mulayam Singh Yadav and Akhilesh Yadav will be present during the felicitation ceremony at 11:30am
6. 2G case: Court to resume hearing final arguments
New Delhi: A special court would resume today resume the final arguments in the 2G spectrum allocation scam case in which former Telecom Minister A Raja, DMK MP Kanimozhi and 15 others are facing trial.
7. Gujarat HC to conduct final hearing on Zakia's appeal
Ahmedabad: The Gujarat High Court will today hear the final hearing of Zakia Jafri's appeal against a lower court order upholding the clean chit given by a special investigation team to then chief minister Narendra Modi and others for their alleged roles in 2002 riots.
8. RBI's monetary policy review
Mumbai: Pressure is mounting on Reserve Bank of India to cut interest rate in its third monetary policy review of this fiscal, to be held today.
9. Finance Ministry to hold talkathon on new black money law
New Delhi: Finance Ministry will hold today a talkathon on the new black money law during which Revenue Secretary Shaktikanta Das and CBDT Chairperson Anita Kapur will respond to the queries regarding the legislation.
10. Sachin Tendulkar to visit Hyderabad
Cricketing legend Sachin Tendulkar will visit today Hyderabad as part of the promotional event for 'Smaaash', the country's premier urban sports centre, which opened at Inorbit Mall in Cyberabad.