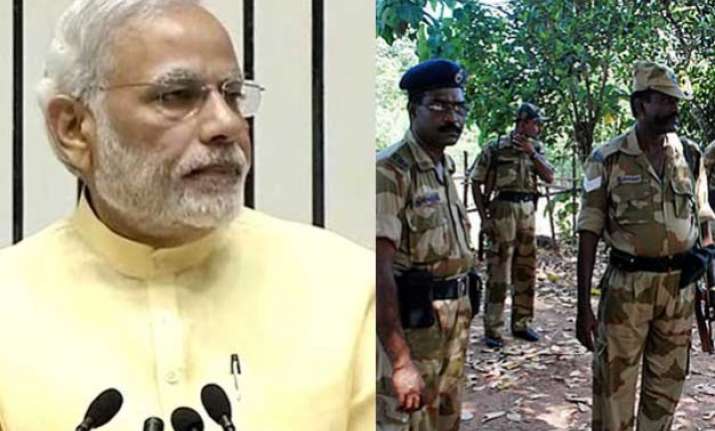 New Delhi: Ahead of the Parliament session, Prime Minister Narendra Modi today reached out to parties appealing them not to come in the way of prosperity of farmers, saying the deadlock over the land acquisition Bill is seriously impacting rural development.
Addressing the second meeting of the Governing Council of NITI Aayog, which was convened to discuss the land acquisition Bill, he said the Centre and States must move together to end poverty.
New Delhi:  India should emerge as the 'human resource capital' of the world as China has become a global 'manufacturing factory', Prime Minister Narendra Modi said today while launching the ambitious 'Skill India' Mission as part of the government's "war against poverty".  
He said India has the potential to provide a workforce of about 4 to 5 crore to the world if the capabilities of the countrymen are honed through proper and dynamic training in skills and added that the government is focussed on this aspect.
Raipur:  The bullet-ridden bodies of four police officials, who were abducted on Monday by Naxals, were found today on a road in Chhattisgarh's insurgency-hit Bijapur district with notes being dropped near them justifying the killings.
The bodies of the four assistant constables were found on a road near Gudma village under Kutru Police Station limits close to the spot from where they were kidnapped by Naxals on Monday, Bijapur Additional Superintendent of Police Indira Kalyan Elesela told PTI.
New Delhi: 1993 Mumbai serial bomb blasts convict, Yakub Memon, will be hanged on July 30 at 7 am in Nagpur Central Jail, if the Supreme Court turns down his mercy plea on July 21.
A TADA court has issued a warrant to carry out the death sentence against Memon. Yakoob was awarded capital punishment on charges of criminal conspiracy under Section 120B of IPC by a TADA court in 20
Bhopal/New Delhi:  The CBI today registered three FIRs and formally launched its probe in the Vyapam scam, which generated more political heat, with Congress alleging an accused in the scandal extended favours to Union Minister Dharmendra Pradhan and other BJP and RSS leaders, a charge denied by them.
The CBI team, which has been camping in Bhopal for the last two days, registered three cases in connection with the massive rigging of examinations for recruitment in government jobs and admissions in educational institutions, naming among others a member of Madhya Pradesh Backward Classess and Minorities Commission member and his son.