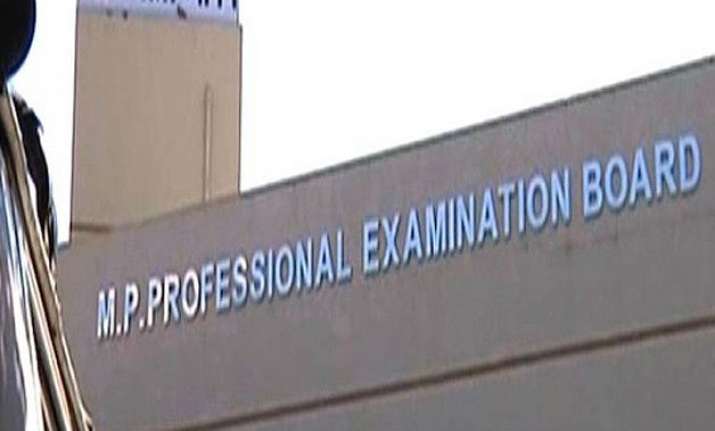 Bhopal/New Delhi:  The CBI today registered three FIRs and formally launched its probe in the Vyapam scam, which generated more political heat, with Congress alleging an accused in the scandal extended favours to Union Minister Dharmendra Pradhan and other BJP and RSS leaders, a charge denied by them.
The CBI team, which has been camping in Bhopal for the last two days, registered three cases in connection with the massive rigging of examinations for recruitment in government jobs and admissions in educational institutions, naming among others a member of Madhya Pradesh Backward Classess and Minorities Commission member and his son.  
The premier investigating agency also launched a probe into the "mysterious" deaths of five persons associated with the scam.
As the agency got down to cracking the cases related to the scandal involving the Madhya Pradesh Professional Examination Board (MPPEB), also known by its Hindi acronym Vyapam, Congress released a document purportedly showing Pradhan and some top BJP and RSS functionaries having received favours from a prime accused.
Congress leaders Jairam Ramesh and Randeep Surjewala released documents at a press conference in Delhi, based on information claimed to have been recovered from a pen drive seized from accused Sudhir Sharma by the Income Tax department.
Sharma, a mining baron considered close to the ruling establishment in MP, was alleged to have made "payments" also to  Prabhat Jha, BJP National vice president, his two sons, Suresh Soni, RSS Joint General Secretary and BJP MP Anil Dave.
"Complicity of the entire BJP leadership with deep-rooted links to RSS in Vyapam scam is thus writ large.
The only alternative is a Supreme Court-monitored CBI investigation after removing Shivraj Singh Chouhan (Madhya Pradesh Chief Minister," they said.
Besides Chouhan, the Congress leaders also demanded the resignation of Pradhan, Union Petroleum and Natural Gas Minister.
Pradhan, whose travel tickets were alleged to have been booked by Sharma, said he knew the Vyapam accused as he was an ABVP activist but insisted it was the BJP office which bought tickets for him when he travelled for party work.  "Not at all. No question," he said when asked if his tickets had been booked by Sharma.
BJP secretary Siddharth Nath Singh said the Madhya Pradesh High Court-appointed SIT had probed these charges and given "clean chits". "Now the CBI is looking into it. Let them investigate," he said.
Jha, a Rajya Sabha MP, too denied the allegations, saying since he was entitled to air travel, the bill for which was footed by the House, there was no need for others to but tickets for him.
CBI sources said the three FIRs have been registered in connection with Pre-Medical Tests for 2009, 2010 and Pre-PG Examination of 2011. The cases have been lodged under various sections of Indian Penal Code pertaining to cheating and forgery.
The CBI has named 21 candidates in the FIR in connection with PMT Test 2010, eight in the second case related to Pre-PG examination of 2011 which includes Gulab Singh Kirar, a member of the MP Backward Classes and Minorities Commission and his son Shakti Singh Kirar. Others named include Former Controllers of Examination, Vyapam, Sudhir Bhadauria and Pankaj Trivedi.
As the Supreme Court while handing over the investigation of Vyapam scam to CBI had also asked it to probe the deaths of people linked to it, the agency also called for records from the Superintendents of Police of Ujjain, Kanker, Gwalior, Jhabua and DIG, Indore, records of "mysterious" deaths of five people.
The Congress has alleged at least 49 people associated with the scandal have so far died under "mysterious" circumstances.
Records have been sought in connection with the deaths of Namrata Damor, Vijay Patel, Rajendra Arya, Akshay Singh and Deepak Verma. Akshay Singh, a TV Today group reporter, had recently died minutes after interviewing Damor's parents.
The body of Damor, an MBBS student and a suspected beneficiary of the scam, was found near railway tracks in Ujjain district.  The death was initially described as murder by the MP police, which later closed the case calling it accidental.  
Patel was accused in three cases related to Vyapam probe carried out by STF of MP police. A resident of Rewa district, he was found dead in Kanker, Chhattisgarh.  
Arya, a suspected middleman facing probe in the scam, was found dead a week after he was released from prison. Police claimed he was suffering from a liver infection.  Verma, also an alleged middleman in the PMT scam, was killed in a road accident in 2010.
Meanwhile, Congress has called a state-wide bandh tomorrow to demand the resignation of Chouhan.