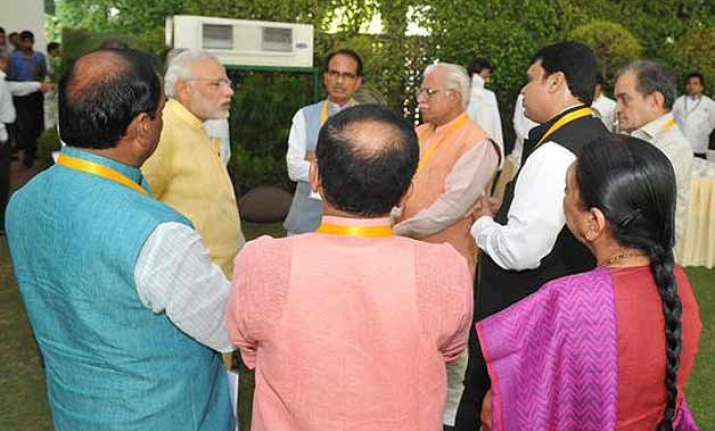 New Delhi: Ahead of the Parliament session, Prime Minister Narendra Modi today reached out to parties appealing them not to come in the way of prosperity of farmers, saying the deadlock over the land acquisition Bill is seriously impacting rural development.
Addressing the second meeting of the Governing Council of NITI Aayog, which was convened to discuss the land acquisition Bill, he said the Centre and States must move together to end poverty.
The meeting was boycotted by Chief Ministers of the nine Congress-ruled states. Only 16 CMs were present.
Modi said, "The political deadlock over land acquisition (law) is seriously impacting rural development, including the creation of schools, hospitals, roads and irrigation projects."
Observing that there was no difference between the Centre and states on paying enhanced compensation, Modi said, "political considerations should not come in the way of a solution that would facilitate development of rural areas, and greater prosperity for farmers".
The Bill was before the Parliamentary Standing Committee, he said, adding that "ahead of the upcoming Parliament session, it was appropriate that the suggestions of states be listened to, once again".
The Right to Fair Compensation and Transparency in Land Acquisition, Rehabilitation and Resettlement Act or land acquisition Bill is being scrutinised by a 30-member joint committee of Parliament. The committee is scheduled to give its report later in the month.
The monsoon session of Parliament begins on July 21.
Besides the CMs of the nine-Congress ruled states, the notable absentees were West Bengal Chief Minister Mamata Banerjee, Tamil Nadu's J Jayalalithaa, Odisha's Naveen Patnaik and Uttar Pradesh's Akhilesh Yadav.
The meeting, however, was attended by Bihar Chief Minister Nitish Kumar and Jammu and Kashmir Chief Minister Mufti Mohammad Sayeed, besides the CMs of the NDA-ruled states.