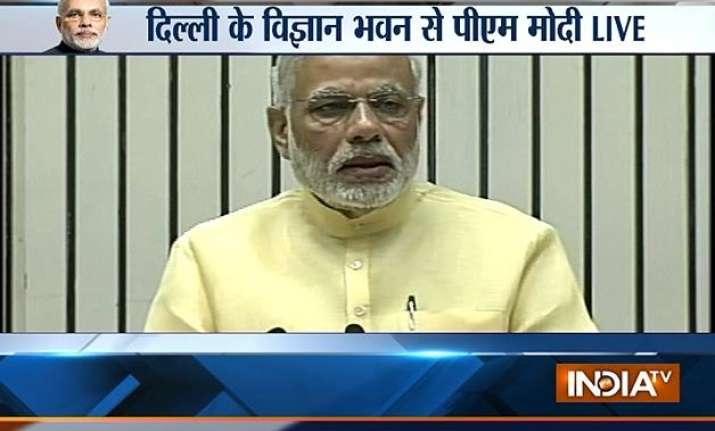 New Delhi:  India should emerge as the 'human resource capital' of the world as China has become a global 'manufacturing factory', Prime Minister Narendra Modi said today while launching the ambitious 'Skill India' Mission as part of the government's "war against poverty".  
He said India has the potential to provide a workforce of about 4 to 5 crore to the world if the capabilities of the countrymen are honed through proper and dynamic training in skills and added that the government is focussed on this aspect.
Noting that the world and technology is changing fast, he said, "We need to have futuristic vision and prepare plans for the next 10 years" and advocated the need for regular interaction between industry and technology experts.  
"If China is like a 'manufacturing factory' of the world, India should become the 'human resource capital' of the world.  That should be our target and we should lay emphasis on that," Modi said addressing an event here to launch the 'Skill India' Mission which was attended by several union ministers and Chief Ministers of various states.
Observing that there are several developed nations which have wealth but not human resources, he said India, in the near future, will be the only country that can cater to this requirement if proper skills are developed here.  
"People of India have huge capabilities and this has been recognised the worldover since centuries. We have forgotten the skills. We have to regain those," he said, adding the training institutes in India need to be dynamic.
Asserting that there is no reason for unemployment and poverty in the country, he said "the foremost priority of the government is to create jobs. For this, we have to create proper structures and this mission is an effort in that direction."
He said while the Indian IITs made a name for themselves globally in the last century, it is the turn of ITIs (Industrial Training Institutes) to do the same this century.
Prime Minister said the 'Skill India' Mission, under which the government has set a target of providing skill training to 40.02 crore people by 2022, is a war against poverty.  
"Through a policy-driven approach we have waged a war against poverty and we have to win this war. We have to form an army from among the poor. Every poor is my soldier. With their potential, we have to win this war," he said.
He also launched a 'Skill Loan' scheme under which credit ranging from Rs 5,000-1.5 lakhs will be made available to 34 lakh youth across the country seeking to attend skill development programmes over the next five years.
Sanction letters for the first-ever Skill Loans were handed out by the Prime Minister to aspiring trainees.  He unveiled the 'Skill India' logo along with launching the National Skill Development Mission, the National Policy for Skill Development and Entrepreneurship 2015, Pradhan Mantri Kaushal Vikas Yojana (PMKVY) scheme on the 'World Youth Skill Day'.
"The poor people are no more willing to beg but to earn through self-respect....Skill India initiative is not merely to fill pockets but to give a sense of self-confidence to the poor," he said at the function attended by Union Ministers including Arun Jaitley, Manohar Parrikar, Suresh Prabhu, Rajiv Pratap Rudy.
Through this mission, the government wants to fulfil dreams of people and intent is to do in a structured way, taking states together, he said in the presence of Chief Ministers including Rajasthan's Vasundhara Raje, Maharashtra's Devendra Fadnavis, Haryana's Manohar Lal Khattar and Punjab's Parkash Singh Badal. Delhi's Deputy Chief Minister Manish Sisodia also attended.
"In poor families, parents usually tell their wards to learn some skill so that they can stand on their feet. If this is an household issue, why it has not reached the ears of the government. We have heard this pain," Modi said, adding that its poor people who are left behind in the race.  
Stating that some work has been done in this area, Modi said the Centre, in co-ordination with the state governments, wants to take this initiative forward in a new way.  Talking about demographic advantage, Modi said although 65 per cent of the country's population is less than 35 years, how would they meet challenges if they are not skilled or else they will "become challenge for us".
He said the government wants "opportunities to increase" and "that is why we have not restricted ourselves to skills, we have focussed on entrepreneurship."
Modi said, "We have to create structures and mechanisms to nurture youngsters, enabling them to find employment".
Here are the major highlights of PM Modi's speech :
  * I believe Indian youth has immense talent, they just want opportunities: PM Modi 
 *  I congratulate Rajiv PratapRudy and his team for the manner in which they have taken this ahead: PM Modi
 *  Our training institutions must become dynamic, Look at the way technology is changing things: PM Modi
  *  We want to work in this direction in a structured & organized way, taking States along, with a new start: PM Modi
*   On international Yoga Day, we realized that the World is looking at India with respect and pride: PM Modi.
 *   Parents from middle-class,lower middle-class & poor families ask their children to learn some skill so that they can stand on their feet:PM Modi
 *  This mission is not limited to skill, we have linked entrepreneurship to it: PM Modi
*   We have opened a war against poverty strategically, and we must win this fight: PM Modi
* PM Narendra Modi releases National Skill Development Mission document.