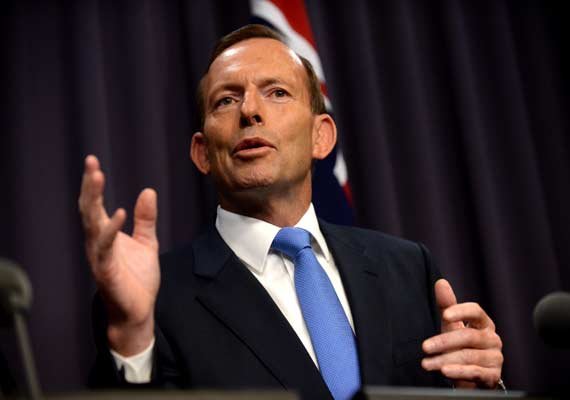 New Delhi: The Australian Prime Minister Tony Abbott will be meeting iconic cricketer Sachin Tendulkar tomorrow in Mumbai, from where he will be starting his two-day State visit to India.
Abbott will be meeting the legendary cricketer along with Aussie cricketing greats Adam Gilchrist and Brett Lee, reflecting the strong cricket connections India and Australia share, Joint Secretary (South) in External Affairs Ministry Sanjay Bhattacharyya said.
The Aussie Premier will be touching down in India's commercial capital in the afternoon and then plans to drop in at the prestigious Cricket Club of India (CCI) where he will have an interaction with the cricket stars.
Abbott is expected to sign a Memorandum of Understanding (MoU) in the field of sports. However the details of the MoU has not been revealed so far.
With the ICC World Cup scheduled to be held in Australia and New Zealand in February-March, next year, the government in Australia is trying their best to promote the country from the perspective of travel and tourism.
Since the marquee event (World Cup) will be held in Australia, home of greatest ever batsman Sir Donald Bradman, the Aussie government in collaboration with the Don Bradman Foundation also wants to organize the 'Don Bradman Memorabilia' exhibition in India in 2015.
The exhibits would include the first bat used in a Test match by Sir Don, including some of the cricket gears used by him.
India is exploring a possibility to have an exhibition in India next year, Bhattacharyya said.
Kolkata's Victoria Memorial is one of the venues, in line to host 'Bradman Memorabilia' exhibition.