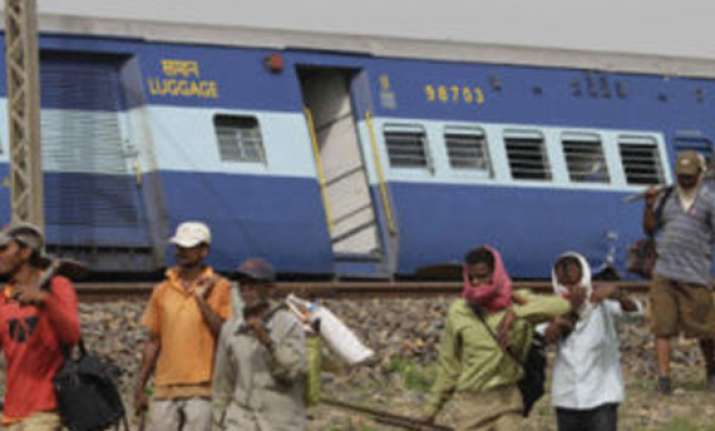 Chandigarh/New Delhi, Oct 28: Three coaches of Howrah-Delhi Kalka Mail derailed near a railway station in Haryana early this morning but no one was hurt.

The derailment took place near Rathdhana station close to Sonipat, about 60 kms from Delhi, at 0543 hours, a Northern Railway official said.

The train was moving at a slow speed after crossing Sonipat in the busy Ambala-Delhi section when the three bogies jumped off the track, he said.

Divisional Railway Manager Ashwini Kumar said there was no casualty in the mishap and all the passengers of the derailed bogies were safe.

"Three out of the 24 coaches, including the luggage compartment, derailed. The train barring the three coaches has left with the passengers of the derailed coaches," the official in Delhi said.

Railways have ordered an enquiry into the incident, he said.

Rail traffic, which was disrupted for about four hours, has been restored, officials said.

Two trains, Una-Chandigarh- New Delhi Jan Shatabdi Express and Kurukshetra-Delhi Passenger, have been cancelled due to the derailment.

Railway sources said the derailment could have been caused by a crack in the track and that detailed investigation was on to ascertain the exact reason for the incident.

The front portion of Kalka-Delhi Mail  left at 7:02 a.m. with all the passengers for onward journey.

Following is a Northern Railway press release:

Trains Diverted/Short Terminated/Cancelled

As a result the following trains will be diverted/short Terminated/Cancelled/Regulated as under :-

Trains Diverted

12497 New Delhi-Amritsar Shane Punjab to run via New Delhi-Shakurbasti-Jakhal

12011 New Delhi-Kalka Shatabdi, 12029 New Delhi-Amritsar Swarn Shatabdi, 14095 Delhi Sarai Rohilla-Kalka Himalyan Queen to run via Shakurbasti-Kurukshetra-Narwana-Ambala

14037 Delhi-Pathankot Exp, 12919 Indore-Jammu Tawi Malwa Exp, 12203 Sahrasa-Amritsar Garib Rath Exp. 12715 Naded Amritsar Sachkhand Exp to run via Shakurbasti-Rohtak-Jakhal

12925 Bandra-Amritsar Paschim Express, 12483 Kochuvali-Amritsar Exp, 14217 Allahabad-Chandigarh Unchahar Exp, 12006 Kalka-New Delhi Shatabdi, 12218 Chandigarh-Kochuvalli Kerala Sampark Kranti, 12926 Paschim Exp, 12014 Amritsar New Delhi Shatabdi to run via Meerut Cantt.

15708 Amritsar-Katihar Exp to run via Saharanpur-Moradabad-Lucknow

12716 Sachkhand Exp, 12058 Una-New Delhi Janshatabdi to run via Delhi Shahdara-Shamli

11078 Jammu Tawi-Pune Jhelum Exp to run via Panipat-Rohtak

Trains' Short Termination:

14673 Jainagar Amritsar Shaheed Express Short terminated at Delhi
12459 New Delhi Amritsar Short terminated at Panipat
14732 Bathinda Delhi Exp short terminated at Panipat
12460 Amritsar New Delhi Exp short terminated at Panipat
64464 Panipat New Delhi MEMU short terminated at Sonipat
64472 Panipat-Ghaziabad short terminated at Ganaur
64462 Kurukshetra-Nizamuddin MEMU short terminated at Karnal
64452 Kurukshetra-Delhi Jn. MEMU short terminated at Panipat

Trains cancelled

64531 Delhi-Panipat MEMU, 64465 New Delhi-Kurukshetra MEMU, 64002 Panipat-New Delhi EMU, 64454 Kurukshetra-Delhi jn. MEMU, 64420 Ghaziabad-Nizamuddin EMU passenger trains has been cancelled.

Trains Regulated

11057 Dadar Amritsar Dadar Exp was regulated at Narela Station since 5:42 a.m. and suffered delay.

12471 Bandra Jammu Tawi Swaraj Express was regulated at Holambi Kalan since 5:50 a.m. and thus suffered delay.