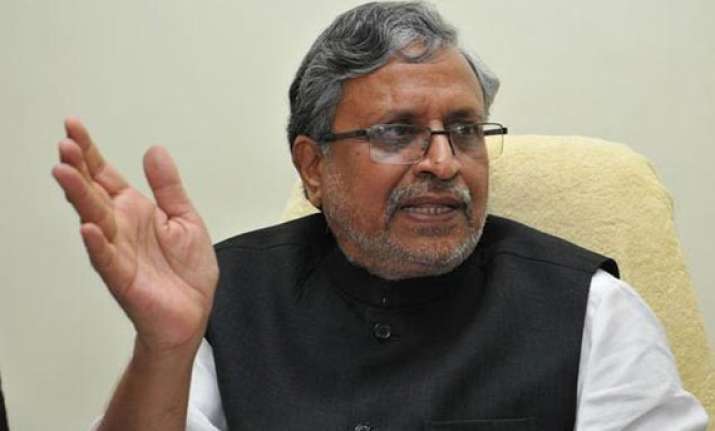 Patna, May 21: Describing the food security bill as a 'unilateral' measure, Bihar Deputy Chief Minister Sushil Kumar Modi on Tuesday urged the centre to foot the entire cost for its implementation, as many states, including Bihar, will be hard pressed to generate resources to meet their share.
"The food security bill is not only unilateral in nature, but the centre has arrogated to itself to fix criteria for potential beneficiaries and framework for implementation of the measure in states that has put many state governments in unenviable position to meet their share of cost to ensure food security of their citizens," he told reporters on the sidelines of the 'Janata Durbar'.
Mr Modi slammed the centre for brushing aside suggestions for widening ambit of beneficiaries under the food security bill to accommodate inclusion of 90 per cent population of Bihar residing in rural areas as well as for full central funding of the measure in view of huge cost of implementation of the measure.
"How will we meet the centre's criteria to provide five kg foodgrain per person per month to 75 per cent priority households in rural areas and 50 per cent in urban areas when about 89-90 per cent of our people live in rural areas?" he said.
When asked about his view on argument between the BJP MP Kirti Azad and the Chief Minister Nitish Kumar in Darbhanga recently, Mr Modi said that the matter was a closed chapter.
The Chief Minister has already clarified about the matter and he has nothing more to add to it, he said.
Azad, a BJP MP from Darbhanga, had charged the Chief Minister with snubbing him during a review meeting of development works in Darbhanga district on Saturday last when he had tried to raise issues related to his parliamentary constituency.
On petrol price hike in Bihar following imposition of surcharge by the state government, Mr Modi said that the surcharge was meant to be borne by the oil companies, but these companies have passed on the burden to the consumers.
We will take up the matter with the oil companies, he said