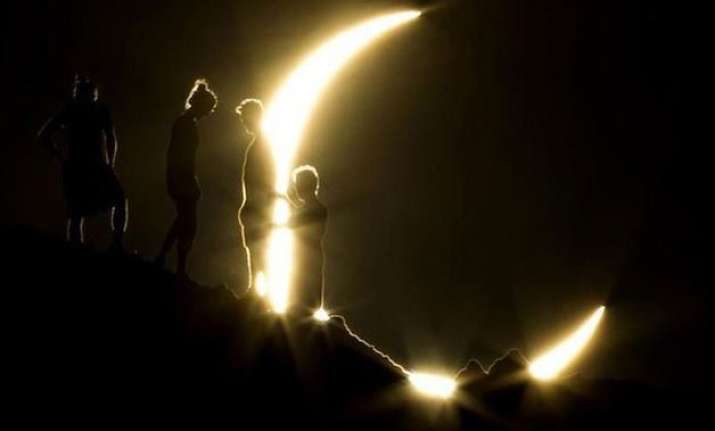 Rare in itself, this is not only the first 'total' solar eclipse of this year but it carries many other unique aspects too.
First of all, it is coinciding with the spring equinox – the day when sun will shine directly on the equator and there will be nearly equal amounts of day and night throughout the world.
The atypical occurrence will start at around 1:10 PM (according to the Indian Standard Time) when the moon will start shadowing the giant fire-ball and eventually it will cover the Sun completely, blocking all direct sunlight and turning the day into night. At around 3:15 PM, it will be at its peak lasting for around 2.50 minutes and then the moon will start retreating. By 5:20 PM, it will leave the Sun to its own for another universal occurrence, the Spring Equinox.
Under normal circumstances, our bodies pass negative energies to Earth however, at the time of an eclipse, the negative energies from our body rise upward through the chakras and auras to negatively influence karmic patterns descending from the higher chakras.
Hence, the astrologers hold opinion that the countries where the eclipse will be visible will see more cases of mental depression, suicidal tendencies, insomnia in its people. Infact, it is a common belief that eclipse throws up negative destiny energies and has power to affect one's destiny adversely.
This eclipse is also one which hasn't been witnessed in Europe since August 12, 2026. Rest of the world has seen many however not after November 3, 2013.
According to several Indian astrologers, this eclipse will strongly affect those who have Pisces as there ascendant or moon sign especially those who fall under "Uttarabhadra Nakshatra".
This also indicates that the world will get impacted by the eclipse's Piscean effect as last time when such a solar eclipse occurred, we saw Tsunami.
ALSO READ: When last such solar eclipse happened as that of today, we saw Tsunami!
Those already experiencing Shani Mahadasha or Antardasha, will see the effect intensified in the forthcoming weeks.
Those with 'Janam Lagna' or ascendant in Pisces, Gemini, Leo, Virgo, Scorpio, Sagittarius or Aquarius might lose money, health and will experience mental disturbance and lack of sleep.
For up to two weeks after the eclipse, Librans may lose health and sleep, while Pisceans and Scorpions can expect sudden positive changes due to Jupiter's legendary benevolence. However, Cancerians and Leos may feel directionless as the Moon and Sun comes under influence of Ketu, as has been predicted through Speaking Tree.
There will also be intense movements in the large water bodies which might manifest into something serious.
It is recommended that one should practice haling method to cleanse the negative karmic energy of our body and aura. For example, we should chant mantra to Sun like Gayatri Mantra, the Sham Savita Surya Naraynana Namah mantra, or the Adityaya Vidmahe/Sahasra Kiranaya Dhimahi/Tanno Bhanuh Prachodayat mantra.
This is also suggested in Hinduism, that one should not start any new venture during the time of eclipse. Such efforts do not bear fruits.
This is also advised that one should not eat, sleep or have sexual intercourse during the time of eclipse as the 'tamasic' forces are active in the body during this time which results in bad health, nightmares and conceiving unhealthy babies.
One should actually try and connect to one's own self spiritually during the time of eclipse.