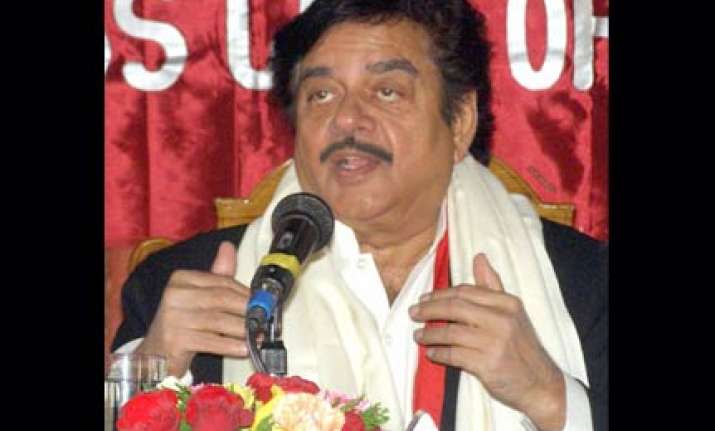 Notwithstanding his party's open support to Amitabh Bachchan on the row with the Congress, BJP leader Shatrughan Sinha on Tuesday took a swipe at him saying an artiste should be above controversy and it does not suit Bachchan to promote any and every brand. 
The actor turned politician also questioned Bachchan's repeated assertion that he was apolitical, saying "it is hard for people to believe since they have seen him walking hand-in-hand with Samajwadi party supremo Mulayam Singh Yadav and Amar Singh". 
"As an artiste one should try to stay above controversy," Sinha told PTI while commenting on the row over a section of Congress objecting to Bachchan's presence at a government function in Mumbai which was also attended by Maharashtra Chief Mainister Ashok Chavan. 
Sinha, who is apparently not on good terms with Bachchan despite the two working together in many a box office hits like Dostana, Kala Pathar, Shaan and Naseeb, said "it is not a national duty of Amitabh Bachchan to propagate and promote, become brand ambassador right from digestive pill to hair oil or opening Bandra-Kurla sealink express. 
"I would like to say that Amitabh Bachchan is too big a personality. It does not suit him to bend down at this stage of career to propagate any and every brand".  While Narendra Modi has made Bachchan brand ambassador of Gujarat, party leaders like Vijay Kumar Malhotra and Uttrakhand chief minister Ramesh Pokhriyal Nishank have publically eulogised him. Sinha took a swipe at the Congress too saying "do they (Congress leaders) consider him a future threat to their 'yuvraj' (prince) ?", a reference to Rahul Gandhi. 
Sinha said he would like Bachchan to come to Bihar.  "I invite Amitabh Bachchan to join me in the publicity of historically important places like Nalanda, Rajgir, Pawapuri and Gaya in Bihar," Sinha, who is BJP Lok Sabha member from Patna Saheb, said. PTI