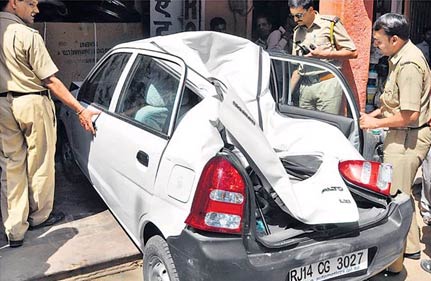 There was chaos in Kishenpole Bazaar of Jaipur on Friday morning, when a rowdy elephant ran amok and started attacking vehicles.  
The elephant was being taken for a bridegroom to ride in a marriage. At around 11:20 am the elephant suddenly ran amok near Shop Number 126, police said.  It first smacked its trunk several times on a parked Maruti Alto car, even as the mahout tried frantically to control the elephant.  
Within minutes, the enraged elephant pushed the mangled car towards the closed shutter of a shop. By that time, the upper portion of the car was mangled beyond recognition.  
A shopkeeper said they were afraid of the elephant running through the congested market.
The owner of Maruti Alto car is Arvind Gupta, owner of a cycle shop who had bought it a year ago. Gupta has filed an FIR in the Kotwali, but whether the damaging of a car by an elephant is covered under vehicle insurance is a matter to be decided by experts.
The elephant number 79 named Ramu had earlier been declared 'unfit' by medical experts and the Forest department had prohibited its use in cities or inhabited areas.  
Rashid, owner of the elephant Ramu, says, the elephant ran amok because some children in Kishenpola Bazaar were teasing him. 'Ramu cannot see but can walk without any problem', says Rashid.  
Abdul Rashid, president of Elephants Welfare Society says, there was a ban on taking out Ramu, but during festivals, he was being brought out to meet daily expenses. An elephant's expenses run into lakhs in a year. The car owner will be compensated, he said.
Nearly three years ago, Ramu had attacked a female elephant Shyama and had caused damage to several vehicles. He was brought under control after six hours at that time. The Additional Conservator of Forests had under Prevention of Cruelty to Animals Act, 1960 had filed an FIR after which a medical board had declared him unfit for urban habitation.  
Despite the ban, the elephant's owner used to take out Ramu to carry tourists visiting Jal Mahal and other tourist spots. Ramu was being used till recently on Delh-Jaipur for giving rides to curious tourists.