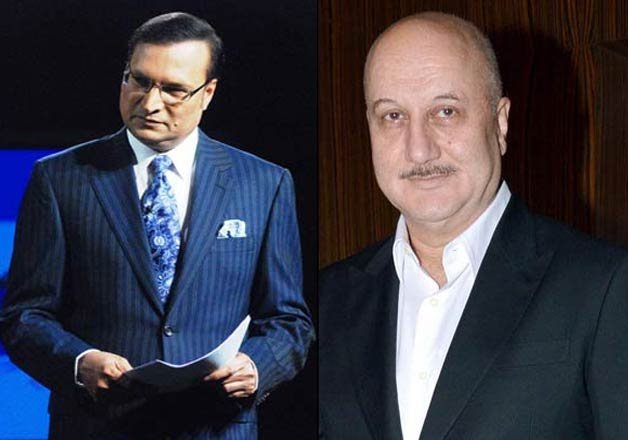 New Delhi: India TV Editor-in-Chief Rajat Sharma and Bollywood actor Anupam Kher along with 31 other prominent personalities from various fields have issued a statement over JNU row condemning the anti-India sloganeering on Sunday.
In their statement, it has been made clear that disagreement over various issues was something they welcome but what was happening in JNU was not acceptable to them as Indians.
It may be mentioned that the row had erupted after JNU students' union President Kanhaiya Kumar was arrested last week in connection with a case of sedition and criminal conspiracy that was registered following an event on the varsity campus to protest against the hanging of Parliament attack convict Afzal Guru during which anti-India slogans were openly raised.
Labelling all those involved in such activities as 'anti-nationals', the prominent personalities said that supporting a terrorist like Afzal Guru is an insult to the Government, Supreme Court, President and Parliament.
"Being a democratic country, India has given freedom of speech and expression to every citizen but if somebody uses the same freedom to insult India, then it is not something that would please other citizens" said the statement.
Denouncing such an attitude towards India, they have appealed to the general public to take a stand and not let these people become successful in their intentions.
Here is the complete statement-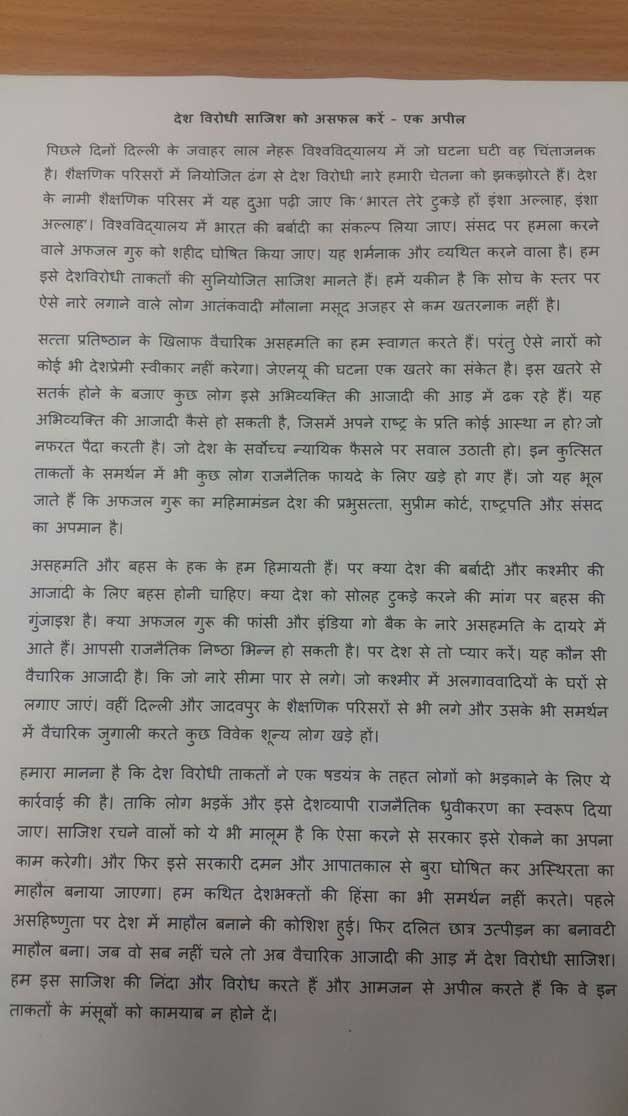 The statement has been signed by these 33 prominent personalities:
1- Rajat Sharma
2- Anupam Kher
3- N. Gopalaswami
4- Subhash Kashyap
5- Swapan Dasgupta
6- Bibek Debroy
7- Bimla Poddar
8- Udit Narayan
9- Paresh Rawal
10- P. Rajan Sajan Mishra
11- Madhur Bhandarkar
12- Narendra Kohli
13- Chitra Mudgal
14- Ramdarsh Mishra
15- Rambahadur Rai
16- Jawahar Lal Kaul
17- Malini Awasthi
18- Girija Devi
19- Jitendra Bajaj
20- Chhannulal Mishra
21- Pushpesh Pant
22- Manu Sharma
23- K. Vikram Rao
24- Makrand Paranjpe
25- Kamal Kishore Goenka
26- Usha Kiran Khan
27- Viveki Rai
28- Hiranyamaya Karlekar
29- Rup Kumar Rathore
30- Sonali Rathore
31- Banwari
32- Kuldip Chandra Agnihotri
33- Hiramani Tiwari