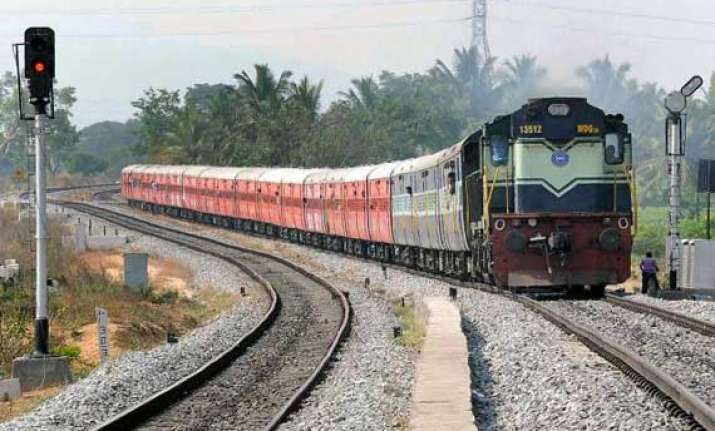 New Delhi: The Indian Railways has managed to complete only one of the 99 new line projects worth Rs.60,000 crore sanctioned in the past 10 years, Railway Minister D.V. Sadananda Gowda said Tuesday, accusing the previous Congress party-led government of fiscal mismanagement.
In his maiden railway budget, Gowda refrained from announcing new line projects and said the focus would be on completing the projects that are under process.
"The more projects we add, the thinner we spread our resources and longer it takes to complete them," the minister said in his hour-long speech.
"I am sure, if this trend is allowed to continue, many more thousands of crore will get spent yielding hardly any returns," he added.
Gowda pointed out that four new line projects are stuck for the last 30 years due to one reason or another.
There has been focus on sanctioning projects rather than completing them. In the last 30 years, as many as 676 projects were sanctioned worth Rs.157,883 crore. Of these, only 317 projects could be completed and 359 projects remain to be completed which will now require as much as Rs.182,000 crore, the minister said.
He said the Indian Railways revenue was "frittered away" and investments were "misdirected" during the previous governments resulting in the precarious financial situation of the organisation that is considered lifeline of the country.
"It is unheard of a business that has a monopoly, that has nearly 125 crore customer base, that has 100 percent sales on advance payment; but is still starved of funds. This, Madam Speaker, is the story of Indian Railways so far," Gowda said.
The minister said in the name of social viability, the chosen projects were populist in nature, bringing hardly any revenue to the Railways. "Investments continued in non-remunerative projects in the name of social responsibility."
"On the whole, neither the projects brought returns to Railways nor the social responsibility was met in full for many years," he added.