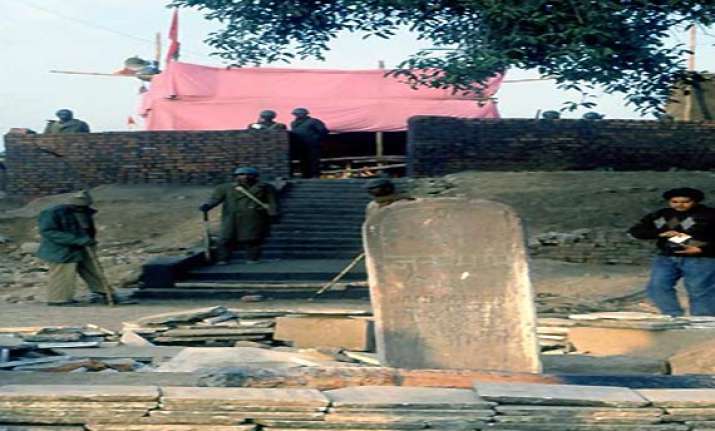 Lucknow: Vishwa Hindu Parishad (VHP) was today refused permission by Uttar Pradesh Government for a yatra from Ayodhya to push for Ram Temple at the disputed site, just days after it asked Samajwadi Party chief Mulayam Singh Yadav to work as a bridge between Hindus and Muslims on the issue.
Meanwhile, the District Magistrate has imposed Sec 144 prohibitory orders in entire Faizabad and Ayodhya towns, which shall be in force till Sept 15.
Principal Secretary, Home, R M Srivastava said VHP leader Ashok Singhal had sent a letter giving details of the 'Chaurasi Kosi yatra' (pilgrimage) between August 25 and September 13 which said "that the yatra is being organised with the demand of the construction of the temple at the disputed site."
The permission for the yatra was refused as the Supreme Court had ordered status quo at the disputed site, he said.
"After the (Ayodhya) judgement was passed by the special bench of the High Court, one party moved to the SC which directed to maintain status quo," he told reporters.
Srivastava said that they had a discussion with the district magistrates and police chiefs of six districts to be covered in the yatra, who also requested that giving permission would not be right.
The yatra would have started from Ayodhya and covered the districts of Faizabad, Barabanki, Gonda, Ambedkarnagar, Basti and Bahraich before concluding in Ayodhya.
The official also contended that the traditional pilgrimage by Hindus on the route is already complete and "it will not be right to give permission for a new tradition."
"Keeping in view the situation, the government has decided not to give permission for the proposed yatra," he said. The VHP condemned the decision alleging that it violated basic religious rights.
"UP government prohibiting Hindu Yatra at Ayodhya violates basic religious rights. We condemn it and sants will decide the future course of action," VHP's international working president Pravin Togadia said.
But the state government cited the Supreme Court order to justify its decision.
"In his letter VHP leader had said that the yatra was being organised so that the temple can be constructed at the disputed site. In the light of the SC order, the demand is impossible and there is no logic in organising the yatra," Shrivastava said.
DGP Devraj Nagar said there was possibility of dispute if a "new tradition" is allowed .
"It is the policy of the government that it does not allow any new tradition. If any new thing is started then it is stopped firmly," the principal secretary said.