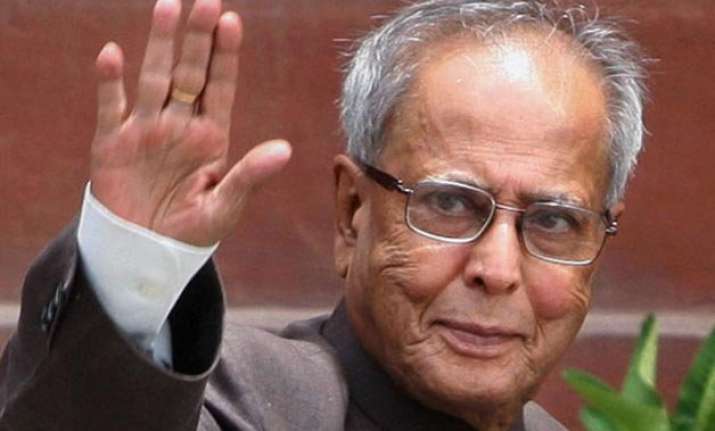 New Delhi: President Pranab Mukherjee will travel to Israel and Palestine this weekend, becoming the first Head of Indian State to visit these two rival nations and providing an opportunity for him to impress upon the leadership there to reduce tensions.
The six-day visit, beginning on October 10, will also take him to Jordan, where he is expected to make an appeal for help in securing release of 39 Indians held by ISIS in Mosul town of Iraq.
In the first leg of the tour, Mukherjee will visit Jordan for a two-day stay after which he will travel to Palestine on October 12 and then Israel for a three-visit from October 13.
"It is a first State visit to Israel with full ceremonies," Secretary (East) in the External Affairs Ministry Anil Wadhwa said today while briefing mediapersons on the upcoming "historic" trip.
The highlight of the President's visit to Israel will be his address to its Parliament Knesset, which is a rare honour for any visiting leader.
"Many Heads of State of other countries may have visited Israel in the past but not many have had the honour of addressing the Knesset," Wadhwa said.
Mukherjee will hold talks with his Israeli counterpart Reuven Rivlin and meet Prime Minister Benjamin Netanyahu as well as the Speaker of the Knesset Yuli-Yoel Edelstein.
The discussions are expected on subjects like terrorism and cooperation in various areas. MoUs in the fields of culture, education, science and technology will be signed, Wadhwa said.
"Israel has the expertise in dealing with many challenges of the 21st century which includes science, information and technology and counter terrorism and India has manpower," he said.
India established diplomatic relations with Israel in 1992 and since then the relationship has evolved into a multi-dimensional partnership.
"The foundation of the relation between the two countries was laid during the visit of the then Israeli Prime Minister Ariel Sharon to India in 2003," Wadhwa said.
India and Israel are engaged in a range of issues of bilateral interest including cooperation in agriculture, science and technology, education and the visit will further cement bonds of cooperation between the two sides and enhance mutual understanding, Wadhwa said.
Responding to a question on the stalled dialogue process between Israel and Palestine since September last year, the Secretary said, "We closely follow developments in Israel and Palestine and we would like tension to come down as it is in their as well as our interest. Both the countries should find a solution."
Turning to Palestine, he said India extends bilateral and multilateral support to it in addition to developmental and budgetary support.
"This visit will further strengthen the bonds of friendship and renew the strong and unwavering commitment of India towards the Palestinian cause with East Jerusalem as its capital," he said.
About Mukherjee's Jordan visit, the official said he will be the Indian President to travel there in the last 65 years since the establishment of diplomatic relations between the two countries.
Earlier, Rajiv Gandhi had visited Jordan as Prime Minister in 1988.
The President will meet King Abdullah and have extensive discussions on the entire gamut of bilateral relations, regional and international issues of mutual concern.
He will also visit the University of Jordan and address its students and faculty.
He will also grace a function organised by Indian Ambassador in Amman for Indian community and Friends of India.
The official was asked whether India would seek Jordan's help in securing release of 39 Indians held captive by ISIS in Iraq's Mosul town since June last year.
"We have sought help of many friendly countries including Jordan. During the discussions with Jordanian King Abdullah-II Ibn Al Hussein and other government officials, India will reiterate its request for help," he said.  
Wadhwa said the visit to Jordan will help in reviewing the bilateral relations at the highest level and give impetus to issues in political and economic domains.
"We will explore possibilies of opening new synergies in different areas of mutual interest and that includes counter terrorism, defence, information technology and energy," the Secretary said.
"The visit will also help in knowing Jordan's stand on various regional issues of our interest," he added.
About the visit to Palestine, Wadhwa said the President will hold meetings and interactions with Palestinian President Mahmud Abbas, Prime Minister Rami Hamdallah and leaders of major political parties.
He will also address the Al Quds University where he will be conferred an honorary doctorate after which he will inaugurate Jawaharlal Nehru Secondary School at Abu Dees in East Jerusalem.
On the Palestine dispute, he said India remains steadfast in its principled support to the Palestinian cause and India has always favoured a negotiated solution resulting in a soverign, independent, viable and a united state of Palestine with East Jerusalem as its capital living with recognised and secured borders side by side with Israel as endorsed in the 'Quartet' roadmap.