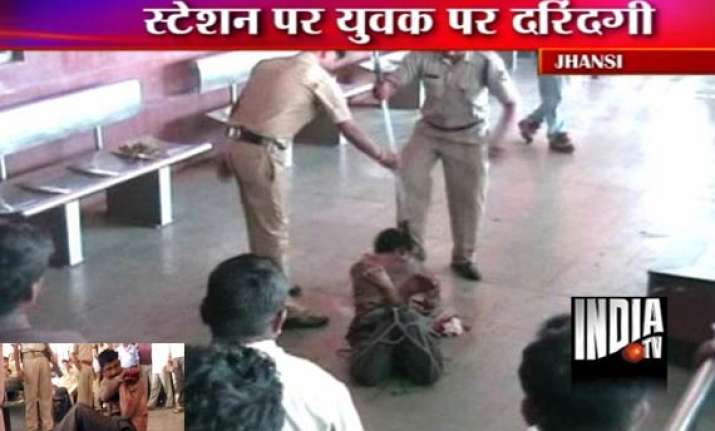 Jhansi, Apr 23: In a barbaric act, the GRP and RPF personnel posted at Jhani railway station on Saturday thrashed a mentally unstable youth in an inhuman manner, reports india TV correspondent Sushil chaube.

earlier, the mentally unstable youth had a fracas with some railway staff and he broke some window panes, railway sources said. The youth was then  tied up and kept in a room, but he somehow managed to break free.

The youth then proceeded to smash up several computers at the railway enquiry counter, station manager Ram Dev  said.

It was then the Government railway police and the Railway Protection Force staff got into their act.

They tied up the youth, stuffed cloth inside his mouth so that his shouts could not be heard, and four to five policemen  bashed the lying youth on his face and body with their boots, even as blood was oozing out of his mouth.

Normally, a tranquiliser injection is given to mentally unstable people to control them, but the policemen resorted to third-degree torture.

All this was done in the presence of senior Railway officials at the Jhansi railway station

Doctors posted at the station refused to touch the injured youth. The policemen then  loaded the injured youth in an ambulance and dumped him at the Jhansi  Medical College hospital.

Dinesh Singh, commanding officer of the Government railway police said, his men had to use force to control the mentally unstable youth.