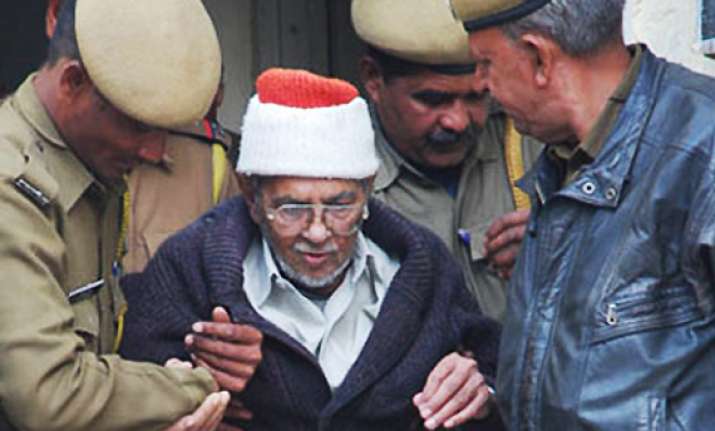 Ajmer, Apr 10:
80-year-old ailing Pakistani scientist Mohammed Khalil Chisti, who was granted bail by Supreme Court yesterday in a two-decade-old murder case, is likely to be released from jail here tomorrow.
Chisti, who is serving life term after his conviction in January last year, was granted bail on humanitarian grounds but the order is yet to be received by the trial court.
"We will go to the fast track court tomorrow after the order is received," Jamil Chisti, brother of Khalil Chisti, told PTI today.
"After furnishing the bail bond, we will go to the jail to welcome my brother who has spent over 14 months in jail," he said.
"My brother got some relief after a long battle. He is ailing and lodged in the jail hospital. Now, we will be able to take care of his health properly at home," Jamil, who is a Khadim in dargarh of Khawaja Moinuddin Chisti in Ajmer, said.
Jamil said their prayers to the Sufi saint have finally been addressed.
A microbiologist by profession, Chisti had come to visit his ailing mother in Ajmer in 1992 when he got embroiled in a dispute and, in the melee, one of his neighbours was shot dead while his nephew got injured.
Born in Ajmer to a prosperous family of caretakers of the shrine, Chisti was studying in Pakistan at the time of partition in 1947 and chose to stay back in that country.
The apex court bench of justices P Sathasivam and J Chelameswar considering his old age and the fact that he has been in India since 1992 after a murder case was lodged against him when he came on a visit to Ajmer to see his mother granted the bail yesterday.
Chisti was granted bail a day after his case was discussed between the authorities of the two countries during Pakistani President Asif Ali Zardari's visit to India.
Rights outfit People's Union for Civil Liberties (PUCL) said that the bail was a significant step but not sufficient.
"He was convicted after several years of trial. This (trial) period was like house arrest for him. We hope that the next step of sending him back to his country happens soon as it would be better for all that we send him back alive," Kavita Srivastava, PUCL General Secretary, said.
The activists had also moved a mercy petition on behalf of Chisti before Rajasthan Governor Shivraj Patil but no decision has been taken so far.
"We again urge the Governor to consider his plea," she said.