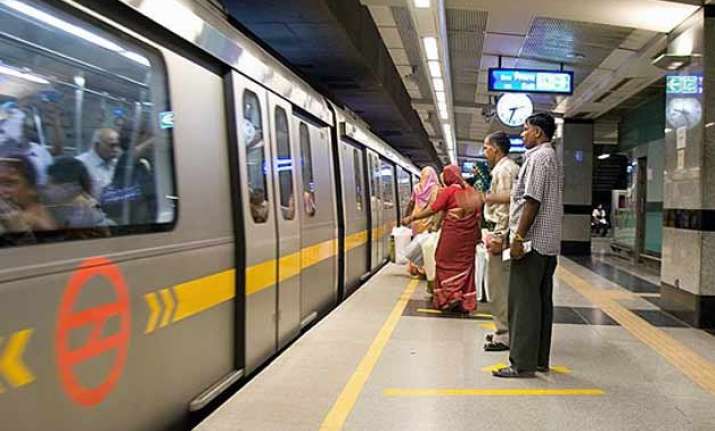 New Delhi: Over 3,000 male passengers have been apprehended and fined this year for illegally travelling in Delhi Metro coaches reserved for women.
The CISF, which is tasked to secure the Delhi Metro network, also found and handed over 70 lost or missing children inside the Metro premises this year till September.
The force, undertook over 270 operations with the help of its specially-trained women and men personnel in civil dress to clamp down on this activity, according to an official data accessed by PTI.
The Delhi Metro, as per existing rules, keeps one coach reserved for women passengers during transit, and male passengers are not allowed to travel in them.
The data indicated that a total of 3,026 male passengers were de-boarded by Central Industrial Security Force (CISF) teams and later fined for the act by Metro authorities under relevant laws.
During the same period between January- September, 70 children were handed over to Delhi Metro authorities and police after they were found lost or alone in the rapid rail transport system of the national capital region, which has an estimated 26 lakh people travelling on it everyday, according to the data.
"Special operations are regularly conducted to check illegal male passengers travelling in 'women only' coaches. More such exercises are in the offing. Similarly, the force personnel have also been asked to a keep a check on children loitering alone or in distress," a senior official said.
The force has also deployed a special women commandos squad, trained in Philipino martial-art technique called 'Pekiti-Tirsia Kali', to keep a check on unruly passengers and ensure security to women travellers.
The CISF, during the same period, also handed - cash worth over Rs 13.77 lakh, cheques or drafts of over 1.92 lakh, foreign currency of Rs 13,376 value, 78 laptops, 15 gold ornaments, over 70 cameras and watches, 238 mobile phones and over ten tablets and i-pods - to Metro authorities which were forgotten by passengers inside Delhi Metro.
"Security personnel are instructed to deposit these items with the Metro station controller after which it can be handed back to the bonafide owner," the official said.
The Delhi Metro network has more than 150 stations running across Delhi and the adjoining areas of Noida, Ghaziabad, Gurgaon and Faridabad.