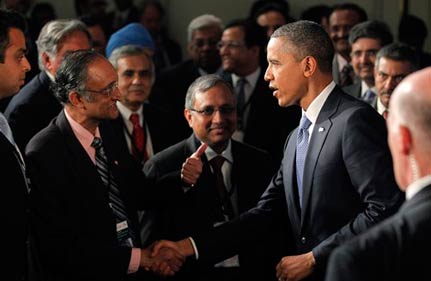 Mumbai, Nov 6 (PTI) Concerned over rising unemployment in the US, President Barack Obama today said outsourcing work to overseas locations like India has cost Americans their jobs.
In possibly a heartbreaking statement for the Indian IT industry, which gets over 60 per cent of its business from the US, Obama said, "...there still exists a caricature of India as land of call centres and back offices that costs American jobs. That's a real perception."
Addressing a US India business council meet here, Obama said, "There are many Americans whose only experience with trade and globalisation has been shuttered factories or jobs being shift overseas."
The US accounts for about 60 per cent of India's about USD 60 billion IT and IT-enabled services exports.
A fragile recovery of the economy, coupled with high unemployment levels has seen US taking a number of protectionist measures such as hiking the Visa fees.
Earlier, Obama had also suggested that tax breaks could be ended for companies outsourcing work overseas.
The unemployment rate in the US was 9.6 per cent for the month of October.