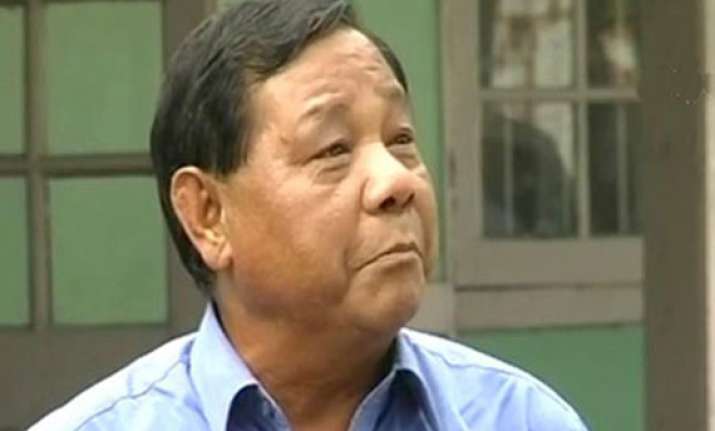 Imphal, Jan 21 : Even as Manipur's ruling Congress appears on course to retain power, the opposition alliance is hoping for an upset win relying on the support from BJP and CPI.

The opposition People's Democratic Front (PDF) made up of Manipur's People Party (MPP), Nationalist Congress Party (NCP), CPI(M) and JD(U) expect to garner at least 29 out of the 60 assembly seats, two short of majority, and then hopes to call up the support from BJP and CPI with whom NPP and NCP have arrived at separate understandings.

NCP general secretary and former Lok Sabha Speaker Purno A Sangma claimed that the party will win at least 15 of the 22 seats where it is contesting while NPP president Nimachand Luwang said his party will bag ten seats.

JD(U) expects to see four of its five hopefuls returning to the assembly, its state unit party president M Tombi said.

Although the opposition has not yet spelt out its common minimum programme, withdrawal of controversial Armed Forces Special Powers Act (AFSPA) and providing security to people will feature as main issues this time during the hustings. 
Luwang says the opposition will bank on the alleged "failure of the Congress Government" in protecting the people from the frequent economic blockades launched by the organisation in Nagaland demanding the "so-called greater Nagalim (Greater Nagaland)".

"The alliance has assured disturbance-free journey in the inter-state routes through the setting up of a highway protection force," he said.

The Opposition front has promised to revive the old Cachar road to Tongjeimaril, which will help reduce the impact of blockades which result in immense hardship with prices of a litre of petrol shooting up to as high as Rs 200 and a kilogram of potato at Rs 90.

Meanwhile, electioneering has so far been low key with banners, loud speakers and crowded public meetings missing from the election scene.

This is a result of the strict instructions given by the Election Commission to candidates not to resort to any means which would violate the EC directive.

State Election Commission sources said here that the election expenditure of each candidate has been fixed to the maximum of Rs eight lakh while hotlines have been opened for the public to report any act of omission or commission on the part of the hopefuls.

Another feature of the electioneering in Manipur is that while candidates and ministers are on their campaign trail, the powerful civil society has taken up the role of being the watchdog.

Civil society organisations are taking to the streets of Manipur to choose their "Right Candidate." Holding festoons reading "Towards public issues, vote for life and dignity and a resurgent Manipur" and "Formulate self-reliance with economic policy," civil society activists march through the busy thoroughfares of the capital town and other constituencies to increase awareness among the voters.

"Let us decide by ourselves", says the convenor of People's Campaign for Assembly Election, Manipur (Pace-M-2012) Deben Bachaspatimayum.PTI