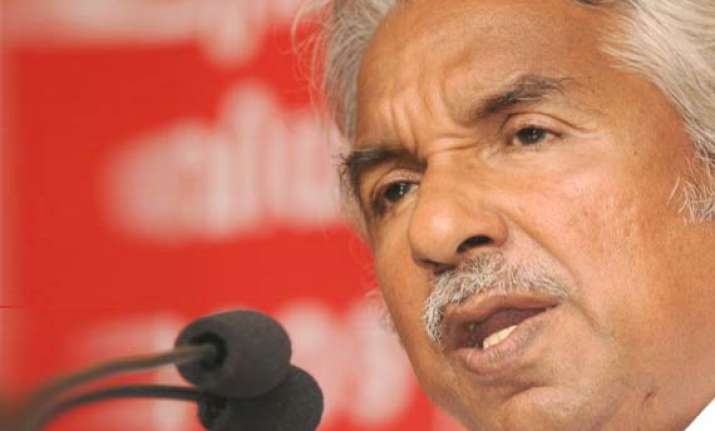 Thiruvananthapuram, May 18: 67-year-old Congress leader Oommen Chandy  was today sworn in as Kerala's 21st chief minister by Governor R.S. Gavai at a ceremony in Raj Bhavan.

Party leaders from all six allies of the Congress-led United Democratic Front (UDF) were also sworn in with Chandy.
The new ministers include Indian Union Muslim League's (IUML) P.K. Kunhalikutty, K.M. Mani of the Kerala Congress (Mani), K.P. Mohanan of the Socialist Janata (Democratic) (SJ-D) party, T.M. Jacob of the Kerala Congress (Jacob), K.B. Ganesh Kumar of Kerala Congress (Pillai) and Shibu Baby John of the RSP (B).
This will be Chandy's second stint as the chief minister, after 2004 when he replaced A.K. Antony following a Congress rout in the Lok Sabha polls.
Outgoing CM V.S. Achuthanandan, former minister and UDF leader K.R. Gowri, and former Left ministers Thomas Issac, M.A. Baby, and K. Ramachandran, were present at the swearing-in ceremony.
The second round of swearing-in is expected to be held here May 23. Known for his organisational skills and administrative acumen, Oommen Chandy is perceived to be the best bet for Congress to lead the UDF ministry as it commands a wafer-thin majority with 72 seats in the 140-member Kerala Assembly.
67-year-old Chandy, a key political player of Kerala for long, has played a vital role since 1970s in building the party as a mass force capable of taking on the CPI (M).
A mass leader with a man-next-door image, Chandy scaled the political ladder starting from his school days as an activist of Congress's student-wing Kerala Students Union.
Chandy's acceptability and popularity greatly helped the Congress to strike roots among the youth through the politically turbulent 1960s and 70s.
He moved to the central role of the UDF left vacant by late K Karunakaran and A K Antony when he was chosen as chief minister for an interim term in 2004-06.
Chandy led the coalition as the opposition leader in the last five years after the UDF defeat in 2006, enjoying the confidence of all its allies.
Though the entry of KPCC president Ramesh Chennithala into the electoral race this time had initially sent signals that he would throw his hat in the ring, he opted out paving the way for unanimous election of Chandy as leader of Congress Legislature Party.
Chandy once again proved his political and managerial skills by wrapping up the agreement among UDF partners on apportioning of cabinet berths and portfolios, proving wrong the skeptics who had forecast that allies would spoil the show through pressure tactics right from the start.
The Congress leader was elected to the Kerala Assembly from his home constituency Puthupally for the 10th time in a row.
Since the 1970s, he has been a frontline soldier of the anti-Karunakaran camp in Congress in Kerala with seniors A K Antony and Vayalar Ravi, who emerged on the centre stage of politics drawing inspiration from the policies of late Prime Minister Indira Gandhi after the Congress split in 1969.
It was this upsurge of Congress in 1970s that made the party a mighty force in Kerala capable of surmounting the challenge posed by the cadre-based CPI(M), and made the UDF a formidable alternative that returned to power time and again. Born on October 31, 1943 to Karottu Vallakkalil-KO Chandy and Baby, Chandy displayed leadership skills since his school days as a participant of the children's forum Balajana Sakhyam floated by leading newspaper house Malayala Manorama. Chandy ventured into campus politics as an activist of the Kerala Students Union during his high school days. Later, he became its state president and sailed into the Youth Congress and the KPCC leadership, choosing political career though being a law graduate.
Despite being a major player and serving as minister in several UDF governments, Chandy had to wait till 2004 to become the chief minister following the resignation of A K Antony owning moral responsibility for the combine's near-washout in the 2004 Lok Sabha polls.
Chandy is one of the few Congress leaders in Kerala who never aspired for any post at the Centre—both, in the party or in the cabinet. Similarly, he has never contested Lok Sabha polls or sought a Rajya Sabha berth, always preferring to be in Kerala.
In the faction-ridden Congress in Kerala, Chandy had to overcome many challenges to consolidate his position. His mass appeal and political consistency helped him to bounce back to the centre stage after being eclipsed for a while by Karunakaran's son K Muraleedharan, who managed to become KPCC president in 2001 with the support of his father.
Chandy's deft moves saved the A K Antony ministry of 2001-04 whenever it ran into troubles created by Karunakaran faction.
When Antony quit as chief minister, Chandy was unanimously elected as CLP leader as other contenders were took weak to pose a credible challenge to him.
In his first stint as chief minister, Chandy turned out to be a leader with inexhaustible energy and resources criss-crossing the length and breadth of the state.
Despite having assumed power in a politically trying times after the rout of the Congress in Kerala in 2004, his ministry ushered in a series of welfare measures and laid the foundation for some major projects like the Kochi Smartcity. The political lore in Kerala has it that Chandy might knock on the doors of any house in his constituency Puthupally at anytime without prior intimation. He even named his house in state capital as Putupally, whose doors are open to people any time.
Chandy's wife Mariamma Oommen is a retired bank officer and the couple has two daughters and a son. Following are the profiles of Kerala ministers, who assumed office here today.
K M Mani: The 78-year-old Kerala Congress (M) supremo is a stalwart of state politics, who has held major portfolios like finance in the previous UDF ministries. Mani created history by getting elected to Assembly from Pala in Kottayam district for the 11th time consecutively.
Known for political shrewdness, sharp wit and debating skills, Mani is the pivot of the Kerala Congress, the state's first regional outfit formed in early 1960s.
Kerala Congress, which commands its support mainly among Christians in the Central Trvancore region, has undergone several splits and re-unions since then. Mani,however, proved a great survivor by dint on his uncanny sense of timing.
Mani's long ministerial experience began in 1975 when he took charge of Finance in the Ministry headed by CPI leader late C Achutha Menon. Mani, a lawyer by profession, has since handled a variety of portfolios in different ministries and has the record of presenting maxium number of—eight—budgets in the assembly.
T M Jacob: An able parliamentarian and good administrator T M Jacob who heads his own outfit KC (J) is becoming a minister in the state for the fourth time. Entering politics as a campus activist, he joined Kerala Congress in 1964 and held various party posts for a long period.
Jacob was first elected to the Assembly in 1977 from his home turf Piravom and remained a member of the House without a break till the 11th Kerala Legislative Assembly.
During his earlier stint as minister, he had held portfolios of Education, Irrigation, Culture and Water Resources.
K B Ganeshkumar: Cine actor-cum-politician, Ganesh Kumar is son of Kerala Congress (B) leader R Balakrishna Pillai, former state minister who was imprisoned in a corruption case in last February.
This is his second stint as Minister. During 2001-2004, he had served as Transport Minister in the A K Antony Ministry.  Ganeshkumar (45) is the only MLA of his party in the assembly.  He has been representing Pathanapuram constituency for the third consecutive time since 2001.
Shibu Baby John: Son of veteran RSP leader late Baby John, Shibu Baby John (48) is becoming minister for the first time.  He is elected Chavara constituency in Kollam district.
K P Mohanan: Son of veteran socialist late P R Kurup, Mohanan (61) of Socialist Janata (Democratic) is becoming a minister for the first time.He was elected to the assembly from Koothuparamba in Kannur district.
Mohanan is the Chief Editor of 'Padayani', an evening daily published from Kannur. He is also actively associated with sports organisations in the state. PTI