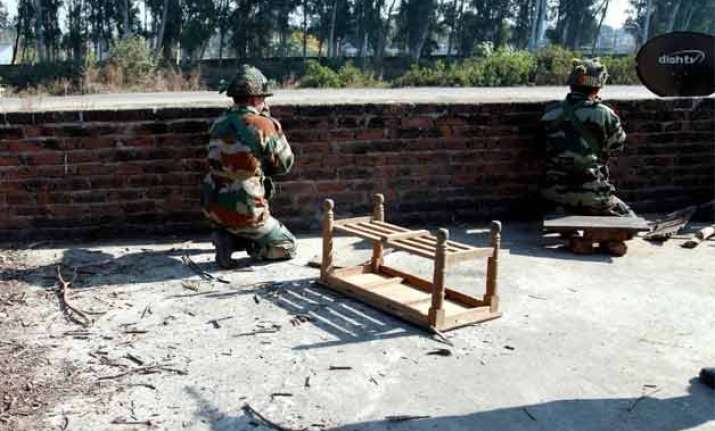 Pathankot: Details that have emerged following the terror strike in Pathankot have established a clear Pakistani hand in the attack that rocked the Indian Air Force air base in the wee hours today.   
Details of call intercepts accessed by India TV reveal that the terrorists made four calls to Pakistan between 12.30 am and 2 pm, just hours before the attack. The conversation happened in Punjabi and Multani.    
While three calls were made to the purported handlers in Pakistan, the last of the four calls needs special mention. It was a call made by one of the terrorists to his mother in Pakistan at 1.58 am today. In the conversation, the terrorist is heard telling his mother that he is on a suicide mission.
This was followed by a prolonged silence from the other side. The terrorist repeated to her mother that he is on a suicide mission. "Allah will take care of all of us," he told his mother. The call, which lasted 70 seconds, ended with the mother asking her son if he had eaten.
The first call was made at 12.30 am and lasted 55 seconds. The conversation was in Punjabi. There were three persons on the other side and all of them talked one by one. The location of the call has not been disclosed.
Tye second call was made at around 12.52 am and lasted for around 32 seconds. One person is heard in the conversation passing instructions, but the details are still unclear. Two terrorists are believed to have spoken to him one by one.
The third and the longest call was made at 1.10 am and lasted 87 seconds. "Control me hai (is everything in control)?" asked a man on the other side. "Haan (yes)," one of the terrorists replied. The man on the other side, who comes across as his handler, then asks the terrorists to "enter target".
"Air Force assets, choppers aur planes ko uda do (Blow up the Air Force assets, choppers and planes)," he instructs the terrorists.
He goes on to say something else which the agencies are trying to decode. "Use samjhao, hame fikr hai," the supposed handler tells one of the terrorists. 
Another call was made to Pakistan from the mobile that was snatched from the Superintendent of Police on December 31.  This call lasted for 40 seconds and the conversations, which were intercepted by the forces, were in Punjabi.
Three security personnel have been martyred in the attack while six have been injured in the fierce gunbattle that ensued.
A total of five militants are reported to have been killed by security personnel. The combing operations are on in the area.
Sources say security forces are not ruling out the possibility of more terrorists having entered into India through the Punjab border.