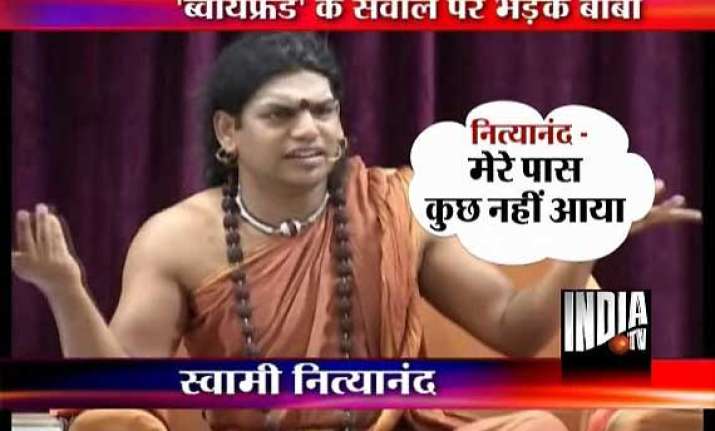 Bangalore, June 8 : There was drama and pandemonium at the press conference addressed by Swami Nityananda in his Bidadi ashram, 35 km from here, on Thursday.
Trouble began when a TV reporter flourished a summons which the self-styled godman and his ashram inmates had been evading for the last several months.  
Ultimately, on orders from a furious Nithyananda, his supporters abruptly ended the press conference and showed all mediapersons the door.  
Sparks flew when Suvarana News reporter Ajith Kumar stood up and asked Nityananda about why he was not accepting four summons sent by  Vinod Bharadwaj (reported to be Nityananda's ex-boyfriend who has alleged sexual exploitation). 
Reporter: Why are you not accepting Vinod Bharadwaj's summons? He sent you four summons.  
Nityananda: I don't know whether any summons have been sent. I haven't received any.  
Reporter: He has filed a case against you and you're not accepting his summons.  
Nityananda: I don't know. I am not replying. I am not running away. If a summons is sent in a proper manner, I will accept.  
Reporter: Your people here are not accepting the summons.  
Nityananda: No, no, it's not true.  
Reporter: The man bringing the summons is not allowed to enter the ashram here.  
Nityananda: Then the court will act. This is a legal matter.  
At this stage, the reporter came forward and put on the floor just below the dais a document purported to be the copy of the summons.  
Nityananda flared up and ordered his followers to stop him.  
Nityananda shouted : "I won't accept this. Don't come near me. This is not accepted. You are not here as a legal person. You are here as a media person. (to his supporters) Don't allow him to do this.  You are not a legal person. This is not legally valid. (to his supporters)  Take him away. He is a media person.  
At this, Nitayananda's supporters rounded up the reporter and forced him to go out. Some of the supporters jostled with other reporters present. All the reporters were asked to get out of the ashram.  
At the gates, a lady claiming to be a lawyer, vociferously argued with the reporters saying that this was not the way a summons is issued. "Don't teach us law. Do not leave unauthorized documents inside our premises. Take this document and go out." 
As Nityananda's supporters roughed up the mediapersons, one of them said, "this is our campus. We have the right to security. I have the right to defend myself." 
Later, Karnataka Navanirmana Sena activists went to the ashram and tore up the swami's posters. There was a scuffle between the swami's supporters and the activists. This continued for nearly half an hour and police had to intervene. 
Meanwhile, Bangalore police today made a lathicharge and arrested 35 persons after a clash between a group of people protesting against Nithyananda and his disciples at his ashram in Bidadi near here. 
The arrests came as protests broke out against Nithyananda in the backdrop of recent allegations by a US-based woman that she was sexually abused by him for five years, a charge denied by him.
The arrested include 15 disciples of Nithyananda who were locked in a fisticuff with the protesters of a Kannada outfit after they barged into the ashram and clashed with his followers, prompting the police lathicharge. 
Police took 35 persons into custody, Ramanagara District Superintendent of Police Anup Agarwal told reporters.  Earlier, police registered two cases against Nithyananda and his followers in connection with an altercation between the self-styled godman's followers and a section of media during a press conference at his ashram yesterday. 
Police registered the cases on a complaint by a regional TV reporter and a Kannada outfit. Acting on a counter complaint, police also filed two cases against the reporter and the outfit activists.
Nithyananda had convened the press meet to respond to allegations made by the woman, who has lodged a complaint in the US.
"The police will initiate action as per law to bring the situation under control", Agarwal, whose effort to meet Nityananda failed, said.
Meanwhile, Home Minister R Ashok asked the police to investigate the issue and initiate action as per law. 
Nityananda is facing a CID probe into allegations of rape and criminal intimidation levelled against him in 2010 after some TV channels telecast purported video footage of the self-styled godman in a compromising position with an actress.  He was arrested in Himachal Pradesh in 2010 and released on bail.