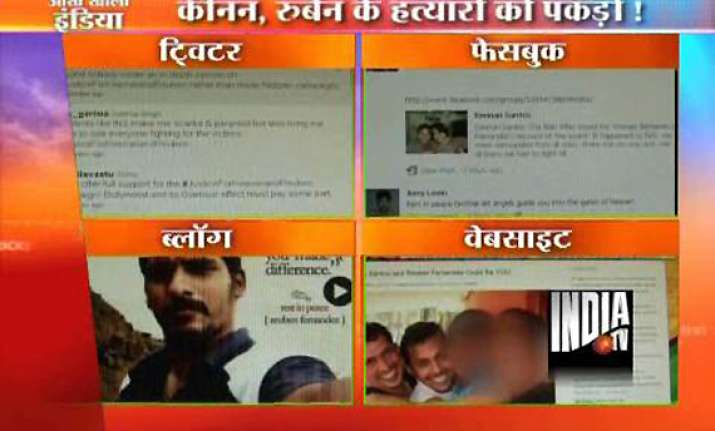 Mumbai, Nov 3: A massive campaign has been launched through Facebook, Twitter and internet blogs demanding Justice for Keenan Santos and Reuben Fernandes, killed by eve teasers after a brawl outside a bar-cum-restaurant in Andheri, Mumbai.

Keenan Santos, 25, and Rueben Fernandes, 28, were severely beaten up when they tried to defend their female friends from eve teasers.

The Facebook campaign seeking justice has drawn a tremendous response from netizens.
 
On October 20, the group of seven had gone to enjoy the India-England ODI at a bar-cum-restaurant in Andheri.

After the match the group stopped at a paan shop just outside the restaurant, where three men led by one Jitendra Rana started passing lewd comments about the women in the group.

According to police, Santos and Fernandes confronted Rana and his friends and shooed them away.

But minutes later, Rana returned with a group of 15 men. Santos was stabbed in the abdomen and Fernandes was beaten with bamboo sticks.

The two were rushed to Kokilaben Dhirubhai Ambani Hospital where Santos was declared dead.

Fernandes died on October 31. Police arrested Rana and three others on charges of murder. By Wednesday, around 26,000 people had come out in support of the online campaign. 13 member of the killer group are at large.

Querida Fernandes, who has set up the webpage, said, "We want the accused to get severe punishment."

Rueben Fernandes's brother Benjamin said, "The main purpose of the page is to make sure that such an incident does not occur again." Benjamin has demanded that a fast track court ensure speedy justice and give stern punishment to the killers.

Priyanka Fernandes, who was present during the brawl said, the two would not have lost their lives had  passers by stood up against the hoodlums.

The supporters of Keenan and Ruben plan to hold a candle march at the Gateway of India.