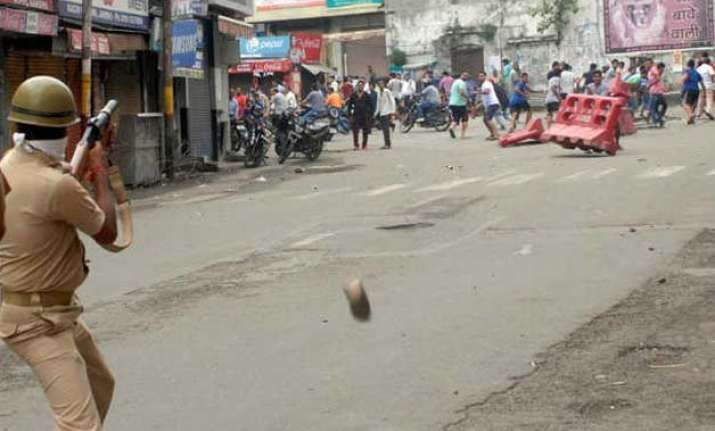 Jammu: A near complete bandh was today observed in Jammu district in protest against the 'beef party' hosted by the Independent MLA Engineer Rashid and killing of cows in Udhampur district.
The bandh was called by Jammu and Kashmir National Panthers Party (JKNPP) and supported by various religious and social organisations, including Bar Association Jammu (BAJ), evoking near complete response in the winter capital of Jammu and Kashmir.
The public transport mostly remained off the roads although the movement of private vehicles continued as normal.
The transporters association remained undecided whether to support the bandh or not.
Shops and other business establishments remained closed to protest the 'beef party' hosted by Independent MLA Engineer Rashid at MLA hostel in Srinagar, even though the Chamber of Commerce and Industry (CII) Jammu refused to extend support to the strike call given by the JKNPP.
"We have extended our support to the strike call as the issue is related to the religious sentiments of the Hindu community across the globe," Ashok Kumar, a shopkeeper said.
Various educational institutions had already declared a holiday today in the wake of the bandh call.
Attendance in various offices remained thin due to non-availability of public transport. The JKNPP activists, supported by various other Hindu organisations, held protests at several places in the city as they raised anti-government slogans demanding immediate arrest of Engineer Rashid for holding the 'beef party'.
They also demanded immediate identification and arrest of the people who were allegedly involved in the killing of three cows in Udhampur district, where three carcasses of the animal were recovered on Thursday.
They also burnt the effigy of Engineer Rashid and the state government for its alleged failure to strictly impose the law that prohibits the slaughter and sale of beef in the state of Jammu and Kashmir.
Three districts of Jammu region, including Udhampur, Kathua and Reasi had observed a complete bandh yesterday to protest against the alleged killing of three cows in Chenani area of Udhampur and the 'beef party' hosted by Rashid in Srinagar.
J-K Legislative Assembly had witnessed chaotic scenes in the wake of the two incidents, following which a resolution was unanimously passed yesterday appealing the people of the state to maintain communal harmony.