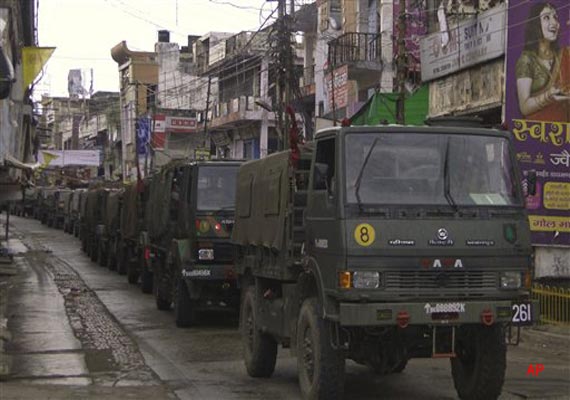 Phugela, (Muzaffarnagar, UP): With violence spreading in rural areas of this sensitive UP district, hundreds of people have been forced to flee their homes and take refuge in police stations.
An eerie calm prevails in the city which is under curfew and a thick security blanket with army being called out.
After curfew was clamped in Civil Lines, Kotwali and Nai Mandi town areas of the district, violence has ceased there but was fast spreading to rural areas where police presence is less.
Gunshots were heard throughout the day in many villages and security teams were finding it challenging to react to scattered incidents.
"There are numerous small settlements where these incidents are taking place. The rioters are hiding in the sugarcane fields. They attack and they again go into hiding.  So it is very difficult to nab them," said a senior security official.
Several hundred people from both the communities have taken shelter in police stations in Phugela and Basi Kala to escape the wrath of rioters.
"Both the communities are victims to this violence. People are angry with the politicians," said a villager.  
Tension has been running high since three persons were killed in Kawal village on August 27 over an alleged incident of eaveteasing.
At least 11 persons, including a TV channel journalist and a photographer, were killed yesterday.  
The violence had occurred as a meeting was being held in Naglabadhod in defiance of prohibitory orders to demand withdrawal of cases registered in connection with August 27 violence in Kawal.
UP Home Secretary Kamal Saxena said that permission was not given for the meeting yesterday but could not reply how thousands of people were allowed to gather at the meet Authorities are trying to identify the people who had provoked the violence during the meeting, an official said.  
Police said the violence was also fuelled by a video allegedly of the August 27 incident which became viral but the UP government today said that the footage was not even of the country.
Asking people not to pay heed to rumours, IG, Crime Ashish Gupta told reporters in Lucknow that some unscrupulous elements were using social networking sites and SMSes to spread rumours to create tension.
"A video is also being circulated through Facebook and other networking sites to create tension. I want to tell you that the said video is probably over two years old and is of some other country. I appeal to people that they should not pay heed to it", Gupta said.
At least 10 more people were killed today, taking the toll to 21 in the western UP district. Among the victims today was a woman in Mansurpur. She was shot and succumbed to injuries at the hospital.
A senior police official on condition of anonymity said, "Inadvertent firing and stone pelting is going in neighbouring villages.
"People are hiding in sugarcane fields and fighting pitched battles with security forces. Villages such as Shahpur, Basi Kalan, Kutba, Bhuvana are highly affected.  Security forces along with the army is combing the area to bring the situation under control."