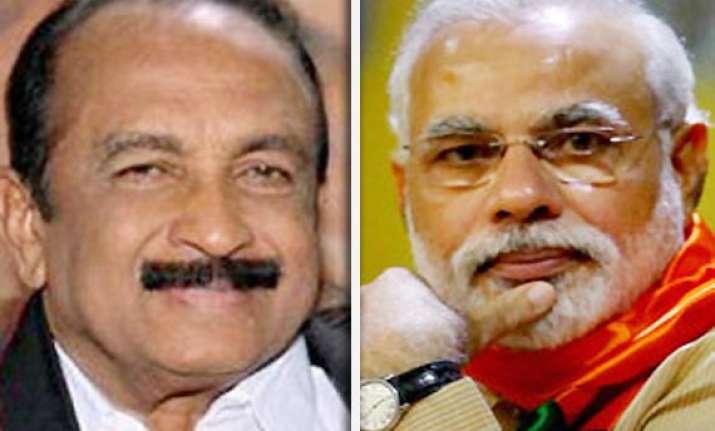 Chennai:  Will the perceived Narendra Modi wave help NDA reenact the 1998 spectacular success in Tamil Nadu when it bagged 30 seats in alliance with AIADMK, is the million dollar question on the minds of BJP workers as the party heads into the April 24 Lok Sabha polls armed with a rainbow combine excluding the two Dravidian majors.  
The saffron party appears confident which comes from the first ever grand alliance it managed to pull off in the state bringing onboard key local players like DMDK, MDMK, PMK and KMDK. AIADMK is contesting all 39 seats on its own while DMK has formed an alliance with smaller parties like IUML and VCK.  
BJP, which never had a strong presence in Tamil Nadu, be it organisational strength or support base, except in a few places such as Coimbatore and Kanyakumari districts, is now buoyant, counting on the alliance and its Prime Ministerial candidate's popularity to revive the golden memories of 1998.  
The BJP clocked a mere 2.3 per cent vote share when it contested 12 seats in the 2009 Lok Sabha polls all alone. Its present partner, the DMDK which too fought alone got 10.3 per cent vote share. BJP's other allies now, the PMK and MDMK as part of the AIADMK combine secured 5.72 per cent and 3.67 per cent respectively in 2009 polls.
Will the 21.99 per cent votes which the NDA allies together polled besides the votes of smaller allies like the Kongunadu Makkal Desiya Katchi transfer as a whole to the Saffron combine in the April 24 election is to be watched keenly.
BJP leader P Muralidhar Rao recently said "the votes will not just be additional, but very significantly incremental." Saffron party leaders expect that the "Modi magic," would pull the youth and more importantly first time voters who constitute a major chunk of the electorate and are "fed up" with the two key Dravidian parties, which have been dominating the state's political scene for over five decades.  
Now, add up the perceived electoral dividend for Modi's OBC background being played up subtly by the BJP in Tamil Nadu, where Dravidian parties have a long history of posting victories by championing the cause of Backward classes.