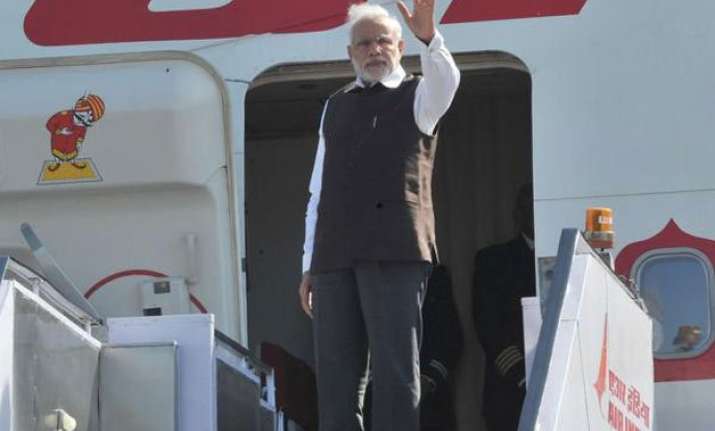 New Delhi: With focus on getting investments and technology, Prime Minister Narendra Modi today embarked on a three-nation tour of France, Germany and Canada during which talks will be held on a range of issues including civil nuclear and defence.  
France will be the first destination of his nine-day tour.  During his stay in Paris, Modi will hold talks with President Francois Hollande and meet business leaders. The focus of talks will be civil nuclear, defence and trade.  A highlight of the four-day stay in France will be a boat ride by Modi and Hollande, which is being described as 'naav pe charcha' (chat on boat).
Earlier, Modi has had 'chai pe charcha' (chat over tea) with foreign leaders, including President Barack Obama during his visit here in January.  In France, the Prime Minister will also visit the World War-I memorial and pay tributes to about 10,000 Indians who lost their lives while fighting alongside France.  He will also visit UNESCO headquarters, Airbus facility and French space agency office.
India is hoping that French companies will participate in the 'Make in India' programme initiated by Modi.  From France, Modi will travel to Germany where again business and technology will be the focus with intent of attracting participation in 'Make in India'.  He will first visit the Hannover Fair where India is a partner country this year. About 400 Indian companies are participating in the fair which will see the presence of about 100-120 Indian CEOs besides about 3000 German delegates.
Modi, along with German Chancellor Angela Merkel, will inaugurate the 'India Pavilion' of the Fair and address an India-German business summit.
He will also unveil a bust of Mahatma Gandhi in Hannover.  The two leaders will have detailed talks in Berlin with focus on how Germany can work with India in its developmental agenda.
The Prime Minister will visit a railway station in Berlin amid his government's agenda of modernising Railways. He will also visit Siemens facility there.
In the third and last leg of the tour, he will travel to Canada, marking the first standalone visit by an Indian Prime Minister in over 42 years. The last such visit took place in 1973.
Modi will have talks with Canadian Prime Minister Stephen Harper on a wide range of issues, including nuclear energy, trade and investment.
India sees Canada as an important partner in fulfilling its developmental needs and expects the visit to impart new vigour in the bilateral relations.
Modi will also address the Indian diaspora in a "Madison Square-like" event there. He will also visit a memorial set up for Air India crash victims in Toronto as also Laxmi Narayan Temple in Vancouver.