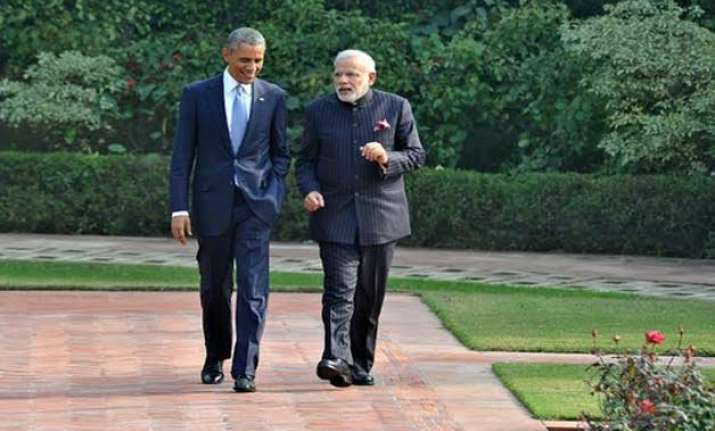 New Delhi: Prime Minister Narendra Modi today went all out to make US President Barack Obama feel special through his personal gestures—be it receiving him at the airport with a hug or preparing tea for the visiting dignatary after their official-level talks.  
After the official discussions followed by lunch, Modi and Obama went for a short stroll in the manicured gardens of the Hyderabad House.
Once they settled down at a special enclosure in the garden, Modi prepared tea for Obama as they continued their one-on-one discussion, reflecting heightened bonhomie between the two leaders.
Earlier in a departure from protocol, Modi received Obama at the airport, becoming the second Indian Prime Minister after Manmohan Singh to extend this special gesture to Obama.  
Obama had also made a personal gesture during Modi's visit to Washington in June and accompanied him to Martin Luther King Jr. Memorial where both leaders had paid joint tributes to the leader of the American Civil Rights Movement.  He had then hosted a private dinner for Modi.
Talking glowingly about his "good friendship" with US President Barack Obama and how it had brought the people of India and US closer, Prime Minister Narendra Modi addressed him by his first name "Barack" more than once while Obama, in response, was less informal and addressed him as "Modi" or "prime minister" during the joint media conference.
"Barack and I have forged a friendship. There is openness when we talk on the phone and we also crack jokes," Modi said.
"This chemistry has brought Barack closer to me but also brought the people of India and America closer" he added.
"I'm fairly new in this area but relations between countries depends less on full stops, commas, and more on the personal chemistry between the leaders. I think this chemistry is very important and will only grow," he said further.
Obama too agreed with Modi and said their friendship reflected the "warmth" between the two countries.
"In addition to the personal friendship that we have built in a brief amount of time we are reflecting the warmth between the people of India and US," Obama said.
"We compared hours of sleep. It turns out that Modi is even getting less sleep than me. That's because he is still new," Obama said much to the amusement of the media persons.