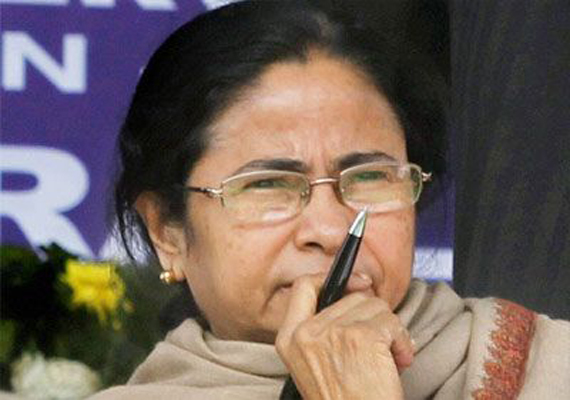 New Delhi, Mar 11: Keeping the Congress guessing, Mamata Banerjee today decided to skip the swearing- in ceremonies of chief ministers in Punjab and Lucknow, citing business in West Bengal, and send two Trinamool leaders to represent her.

"I just spoke to Mamatadi. She was keen to make the trip to Chandigarh and Lucknow but now she will be in West Bengal on the opening day of the Assembly for the Governor's address," Trinamool Congress leader and Rajya Sabha member Derek O' Brien told PTI.

She has asked West Bengal Tourism Minister Rachpal Singh to represent her in Punjab and Union Minister of State for Tourism Sultan Ahmed in UP.

Mamata had yesterday stated that she will try to attend the oath-taking ceremonies of Parkash Singh Badal as Punjab Chief Minister on March 14 and Akhilesh Yadav as the new UP Chief Minister the next day.

Trinamool Congress has made common cause with non-Congress chief ministers on some issues, adding to the woes of the Congress.

Mamata was specially invited to the swearing-in ceremonies of Badal and Akhilesh.

Making known its disapproval of her attending the functions, Congress reminded her that any interaction with NDA allies "beyond the normal boundaries of social courtesy, will become immoral" and she should not cross the 'Laxman rekha' of 'coalition dharma'.

"Social interactions with strangers by those in partnerships is permissible, but obviously if things go beyond the normal boundaries of social courtesy, it would become immoral", party spokesman Abhishek Singhvi told reporters in Delhi.

Brien declined to comment on Singhvi's caution.

However, a Union minister struck a conciliatory note. "Mamata Banerjee is our ally and whenever CM-designate invites, our political allies going and attending the ceremony, it is not a big issue. We don't consider it as an issue which is of a very serious nature," V Narayanasamy said.

"We will not interfere in the decision-making of leaders of our allies on various issues," he said, adding, it is for them to decide.

While Badal's party Shiromani Akali Dal is a part of the BJP-led NDA, Samajwadi Party is an outside supporter of the Congress at the Centre.

Singhvi's remarks were significant as they came on the eve of the Budget session of Parliament which appears to be a tough affair for the Congress-led coalition with the opposition parties attempting to make a common cause with some UPA allies as also supporting parties on the issue of federalism.

Trinamool has pushed the Government on the backfoot opposing petrol price hike, FDI in retail and NCTC.

The party has decided to strike a combative note ahead of the Budget Session. The party has decided take on the Centre on issues like NCTC and Farakka on the floor of the house.

Fuelling concerns in the Congress' camp, regional leaders like Odisha Chief Minister Naveen Patnaik, Tamil Nadu Chief Minister Jayalalithaa and Gujarat Chief Minister Narendra Modi have been echoing Mamata's criticism of the central government for infringing upon the federal structure of the country. It has come at a time when speculation was rife that some regional leaders will form a "Fourth Front"even at an auction," the chief minister said.

Meanwhile, Ahmed in Kolkata said, "As she will be busy in the Budget session of West Bengal Assembly, I have been directed by the chief minister and party supremo Mamata Banerjee to attend the swearing-in of Akhilesh Yadav at Lucknow."

Rachpal also confirmed that he, along with Trinamool Congress Rajya Sabha MP K D Singh, would attend Badal's swearing-in ceremony.