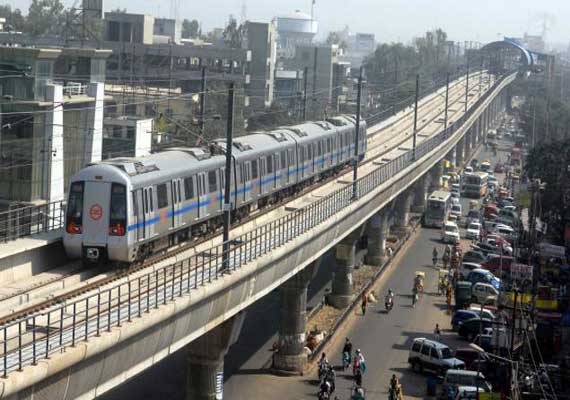 Noida: Work on the Noida-Greater Noida Metro rail project is likely to begin in May or June, Chairman of the Greater Noida Industrial Development Authority (GNIDA) said yesterday.
Chairman Rama Raman said this while inaugurating week-long celebrations to mark the 24th Foundation Day of Greater Noida at City Park here.
The Greater Noida Industrial Development Authority (GNIDA) was set up on January 28, 1991.
"There is a need to improve the public transport system.  Efforts are being made to start work on Metro rail project connecting Noida and Greater Noida.
Work is projected to start from May or June," Raman said.
"In next few months, hi-tech city bus service will be launched, which will provide better connectivity between Noida and Greater Noida.
A consultant has been hired for the project. Presently, Authority-funded buses are being run between the two cities.
On residents' suggestions and consultant's survey, routes will be revised and more buses included in the fleet," said Raman.  
"A helipad will be set up near the India Expo Centre which will provide alighting site to VVIPs.  
Further, it is planned to have helicopter services for tourists between Greater Noida, Mathura and Agra.
In case of emergencies, these helicopters can be used as medical ambulance too, he said.
The night safari project will be ready in next three or four years, he said.
Stressing on the importance of reducing the gap between the rural and urban areas, Raman said, "Rural areas will be developed at par with sectors and the rural-urban divide will be bridged so that farmers and sector residents could live in harmony.
"Farmers' problems will be taken on priority. Abadi land and other issues will be resolved through mutual discussion.
Farmers interest will be on top priority," said Raman.
On water, Raman said, "There is no shortage of groundwater and efforts are being made to provide 24-hour water supply to residents.
The Ganga Jal project too has been initiated so that people can get ganga water.
Additional chief executive officer of Greater Noida Authority Harish Verma, DCEO
Manvendra Singh
and General Manager (Urban Services) RK Dev were among the officials present at the event.