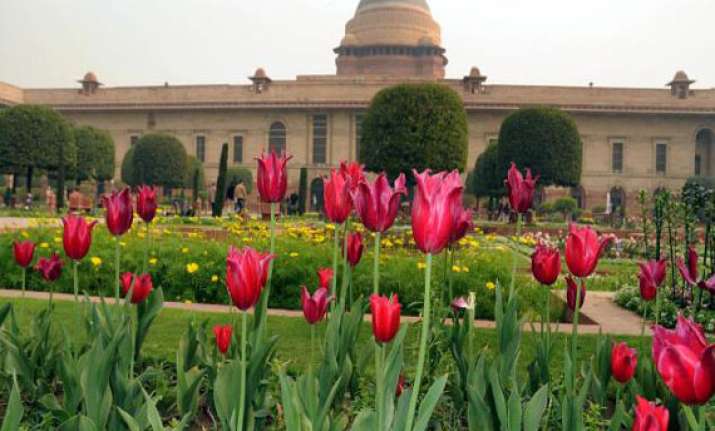 New Delhi: President Pranab Mukherjee on Saturday opened the annual "Udyanotsav" of the famous Mughal Gardens which has this year a delicate addition in the form of tulips imported from Holland.
Nearly 5,000 tulips will bring the flavour of Kashmir Valley in the floral extravaganza at Rashtrapati Bhavan which will showcase 200 varieties of roses, 250 bonsai plants, 80 varieties of cactus along with flowers like Dahlia, Calendula, Gerbera, Linaria, Larkspur, Gaznia, Verbena, Viola, Pansy Carnation, Chrysanthemum, Marigold, Salvia in full bloom.
The Mughal Gardens, which braved the unseasonal rains without any damage, will remain open for general public from February 16 to March 16  (except on Mondays which are maintenance days) between 10 am to 4 pm.
"The main attraction of this year's Udyanotsav are Tulips which will be planted in phases," the statement said, highlighting that the Tulips will be in full bloom in colours of red, orange and yellow mixed with red and white.
The dominant colour scheme of this year's ornamental flowers is yellow, it said.
The Tulips, which have been blossoming at Tulip Garden in Kashmir, have been imported from Holland with the support of horticulture department of Jammu and Kashmir as they have the official license for importing the flowers.
On display is also a new method of soil-less farming (aquaponic cultivation) of vegetables and house plants along a vertical wall, the statement said.
The floral event is extremely popular and had recorded 4.8 lakh footfalls in one month in 2013.