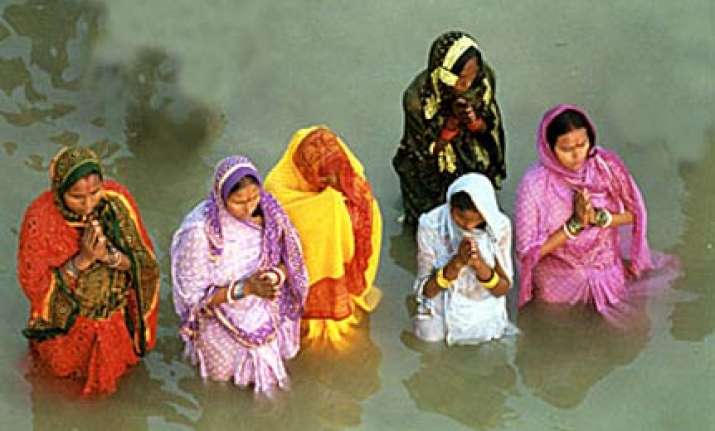 Patna, Nov 12 :  Lakhs of devotees today thronged rivers, water reservoirs, canals and ponds across Bihar to celebrate Chhath Puja.
Standing in knee-deep water, devotees paid oblations to the setting sun. They also observed fast for 36 hours.
In Patna, lakhs of devotees offered Puja to the Sun God after taking holy dip in the Ganga. Ghats on the banks of the river were spruced up and illuminated for the occasion with strains of devotional songs wafting in the air.
Close relatives of Chief Minister
Nitish Kumar
and RJD president Lalu Prasad's former chief minister wife Rabri Devi with relatives celebrated Chhath and offered 'arghyas' (prayers) to the setting sun.
Lakhs of devotees thronged the Sun temples at Deo of Aurangabad, Bargao of Nalanda and Pandarak in Patna district.
Inmates of various jails, including Beur, performed Chhath puja for which the authorities made special arrangement.
In Mumbai, a  huge crowd congregated on the sea shores of Juhu Chowpatty to celebrate the pooja.
Thousands of devotees offered Chhath Pooja on the banks of river Yamuna in Delhi.