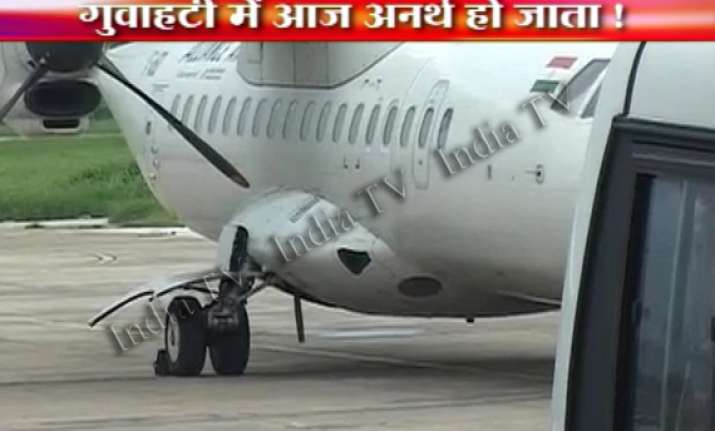 Guwahati, Jun 10:
A lady pilot of Air India today performed the feat of landing a passenger plane on a single wheel at the Lokopriya Gopinath Bordoloi international airport here.
All the 48 passengers and four crew members on board were miraculously saved, after the lady pilot reported that  a wheel had come off in the air.
Air India sources said the ATR 976- flight lost one of the front wheels during take off from Silchar airport this morning while en route Guwahati.
None of the 52 people — 48 passengers and four crew members were injured in the emergency landing, the sources said.
Assam Chief Minister Tarun Gogoi congratulated the pilot Captain Urmila and co-pilot Yashu for saving the lives of the 52 people.
Gogoi spoke to the ladypilot Urmila over phone and conveyed his thanks to her and the co—pilot for showing alacrity, courage and dexterity by landing the flight safely.
"Hats off to you and your co-pilot for your daring and courageous act which saved the precious lives of the passengers," he added.
It was chaos at the  airport on  Sunday morning as fire tenders and ambulances took up positions after the Air Traffic Control received a May Day call from the pilot.
The fight which was scheduled to depart Khumbirgram Airport in Silchar at 7.20 AM left at 9 AM owing to a certain declared technical snag that developed moments before the take off.
As the plane was in the air,  the automated alarm of the flight cautioned passengers on board to be prepared for any eventuality.
For the 48 passengers on board it was a nail biting moment . However the lady pilot did not panic, and she kept the plane hovering over the skies of Guwahati to exhaust excess fuel so that the plane does not catch fire in case of a crash landing.
 The  left wheel of the plane  had came off during its take off. Now the plane was left to land on " one wheel" .
Contrary to the usual nose landing, this time the plane had to  make an emergency body landing.  All fire fighters and ambulance men right up to the  technical ground staff were waiting with their fingers crossed. Finally, the pilot managed to land the plane on a single wheel.
For Meghali Goswami , professor in the department of Fine Arts , Assam University Silchar it was her fight to her home town and a chance to meet her mother and daughter. However the couple of hours of tension on board , made her sick and finally she fainted . While leaving  Guwahati International Airport she complained  that the airport lacked medical facility and a proper back up.
This is the second incident in a months time that  an Air India plane has made an  emergency landing at Guwahati Airport after they developed technical snags.