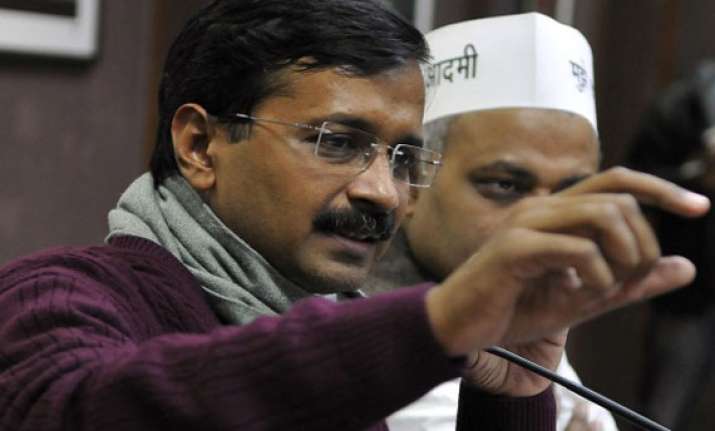 New Delhi: Delhi Chief Minister Arvind Kejriwal told a delegation of Pakistani journalists that he has not studied India's relations with Pakistan, and he would prefer the Centre to respond on such issues.
Kejriwal went a step further. Asked about Congress' support for him, Kejriwal said, "They did so to trap us and now they themselves are trapped." 
Under the headline "Delhi's muffler politico", Bahzad Alam Khan writes in Dawn newspaper: " Provincial Pakistani bureaucrats occupy bigger and more lavish offices than the one out of which operates Delhi chief minister Arvind Kejriwal.
"No golden nameplate adorns the door of his third-floor office in the Delhi secretariat. A functional, almost nondescript, number plate ('A-301') is affixed to the top of the door.
"Though the room is well-insulated and receives no draught of the icy Delhi wind, Kejriwal's head is swathed in his trademark blue muffler, covering his ears and most of his hair except for the widow's peak.
"..When he is congratulated on leading his one-year-old anti-corruption Aam Aadmi Party to unexpected but spectacular success in the December elections last year, the smile gets broader, though he does not let go of his characteristic meekness: "Sab Allah ka shukar hai. Hum to bahut chhotay log hain." (All the success is due to Allah's blessings. We are very small people).
"He may be small in the literal sense of the word – at five feet four inches he isn't particularly tall – but Kejriwal is no longer an Aam Aadmi and has shown a remarkable propensity over the recent months to take on the biggies of Indian politics.
"...In a brief but animated conversation with Pakistani journalists, Kejriwal explains why he named those politicians. "There are four reasons. We are against corruption among politicians. We are against their criminalisation. We are against their commercialisation. And we are also against dynastic politics."