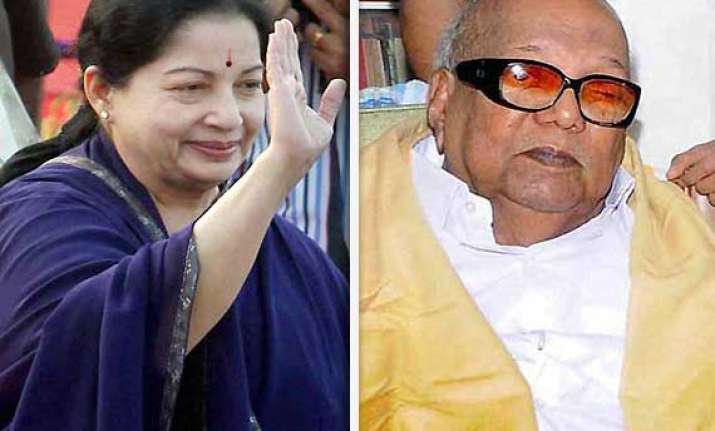 Chennai: In continuing war of words, DMK Chief M Karunanidhi today hit back at his arch rival and Chief Minister Jayalalithaa, accusing her of seeking to politicise the Mullaperiyar dam issue and asked her to focus on followup administrative actions to implement the Supreme Court order.
Reacting to Jayalalithaa's statement yesterday asking him not to politicise the issue, the former Chief Minister said it was she who viewed everything from the prism of politics.  Joining issue with Karunanidhi over his remarks while welcoming the Supreme Court order allowing Tamil Nadu to increase water level in the century-old dam located in Kerala, Jayalalithaa had also attacked the previous DMK regime, saying it did nothing to settle the issue.
Kerala was insisting on a new dam to replace the existing one, citing safety concerns.
Recalling various steps taken during the DMK regime such as his visit to Thiruvananthapuram for talks with then Kerala Chief Minister V S Achuthanandan in 2000, Karunanidhi said as per an apex court order a seven-member expert committee was formed by the Centre comprising officials from both the states and it recommended increasing water level to 142 feet.  When the committee's report was presented, Assembly elections were held in Tamil Nadu and there was a change of government (in 2001), he said.
"DMK Government had taken constructive efforts in the dam issue. Jayalalithaa, instead of seeking political mileage out of the issue, should consider it as a livelihood of farmers and as a drinking water problem of people. It will be good if at least hereafter she takes administrative steps", he said.