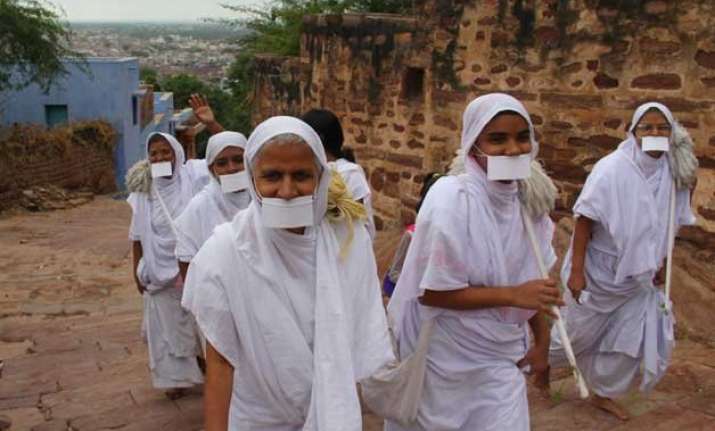 Ahmedabad: A local court has rejected a request made by a Jain Monk, against whom a bailable warrant has been issued, to give him eight months time to appear in the Court as he wanted to walk all the way from Kolkata to the city.
In the hearing held yesterday in the city-based metropolitan court, the magistrate rejected the request of the monk and has issued a fresh bailable warrant asking him to appear in the court on the next date of hearing after a month.
The court had issued a warrant against Acharya Kirit Yashuriswarji Maharaj who is accused in a case of releasing forged central government notification claiming that government has given consent for Bal Diksha, the practise of renunciation of world by children among the Jains.
Chief Metropolitan Magistrate A S Vyas had issued a bailable warrant against him seeking his presence in court on September 7.
In his reply to the warrant, the monk requested the court that he should be given time of eight months to come back to Ahmedabad.
The Jain monk said that due to his age and spinal cord illness he can only walk 10-12 kms a day and it would take him eight months to return to Ahmedabad as distance between the two cities is 2,200 kms.
Jain monks live in extreme austerity and only travel on foot, as after renouncing the world they are committed to non-violence.
The monk in 2009 had issued an advertisement in local newspaper with an alleged forged notification of the Centre which said that government endorses Bal Diksha and it is not against any law.
The advertisement was issued by the Jain monk after furore in the Jain community over renunciation of the world by young children.
However, social activist Jasmin Shah had through RTI, found out that the Centre has never issued any such notification endorsing Bal Diksha, his advocate Nitin Gandhi said.
Complaint of forgery was filed against the monk by Shah in the court.