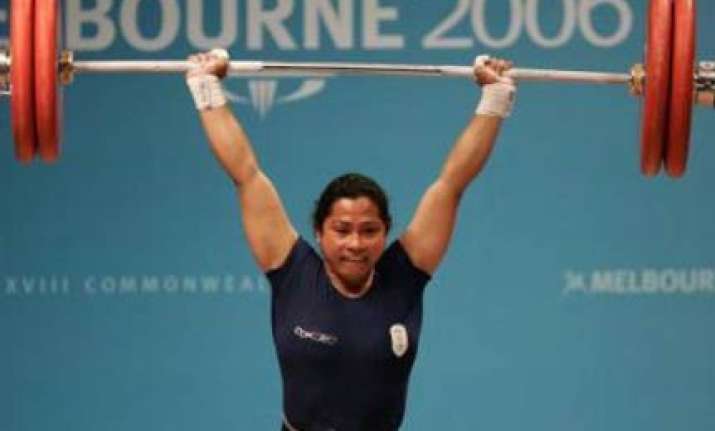 New Delhi, Oct 9 : Despite an average performance,India's Laishram Monica Devi managed to bag bronze medal in women's 75kg weightlifting here at the Jawaharlal Nehru Stadium Sports Complex today.
The winner of this category, Hadiza Zakari of Nigeria,finished with a combined effort of 239kg (110 in snatch and 129 in clean and jerk), creating a new Commonwealth Games record in all three sections in 75kg.Even her closest rival, silver medallist Marie-Eve Beauchemin-Nadeau of Canada, was 14 points behind with a total effort of 225kg (99 in snatch and 126 in clean and jerk).
Monika Devi, despite lifting a total of 216kg (95 in snatch and 121 in clean and jerk), was better than her other opponents.
The lifter from Manipur, who was considered a gold medal prospect in this category, however, could not live up to the expectations. Even a bronze seemed a distant dream after the end of snatch event, leave aside gold or silver.Defending her poor show in the competition, Monica Devi said that "she wasn't too well and the Nigerian was way too good"."I was not feeling too well. Still I was targetting goldbut the Nigerian came in the way," the 27-year-old said.
 "Actually the Nigerian lifter was initially not there in the list and I was concentrating on beating the Canadian. At the end Zakari proved to be way ahead," she added.
Zakari finished with a lift of 110kg to top the list in snatch event, while the second spot was grabbed by Beauchemin Nadeau with a lift of 99kg.
The third position saw three lifters -- Jenna Myers of Australia, Medias Ngake Nzesso of Cameroon and Monica Devi -- finishing with same points, on 95kg, at the end of snatch.
Monika, who made a comeback after a two-year ban for doping, lifted 95kg in her very first attempt in snatch but failed miserably in her next two attempts, managing to lift 99kg.
However, the silver medallist in 69kg in MelbourneCommonwealth Games in 2006 came bach strongly in clean and jerk event, in which she first lifted 118kg and then followedthat up with a lift of 121kg.
Despite failing to lift 126kg in her third and final attempt, she remained at No. 3 spot as Medias Ngake Nzesso lost out on greater body weight after she too finished with at 216kg.
Nzesso was unfortunate as she got injured and could not take her final attempt. She was doing extremely well and was mlooking very strong. But as soon as she lifted 121kg in her second attempt in clean and jerk she got injured and collapsed on the floor. Since she could not take her third and final attempt, her total remained at 216kg.  
"My performance was less than what I could do in 2006 Melbourne Games, so I would have to work harder," Monika said.The Indian lifter, who was in the original list of the Indian squad for the 2008 Summer Olympics at Beijing in women's 68kg category, was dropped after the weightlifting federation stated that she had tested positive in a dope test.
However the Prime Minister's Office over-ruled its decision. But because the final list of participants had already been submitted to the Olympics officials, Monika could not take part in the Games.
Shrugging off the past, she choose to talk about her future plans, saying that she would have to work on her concentration, which was not up to the mark today and would also like to practice more in order to do well in future.
"I was doing well in practice and had I converted that performance of mine on the field today, I could have done better. But my concentration was also not very good. I now have to work harder and practice more to improve for future tournaments," added Monika. PTI