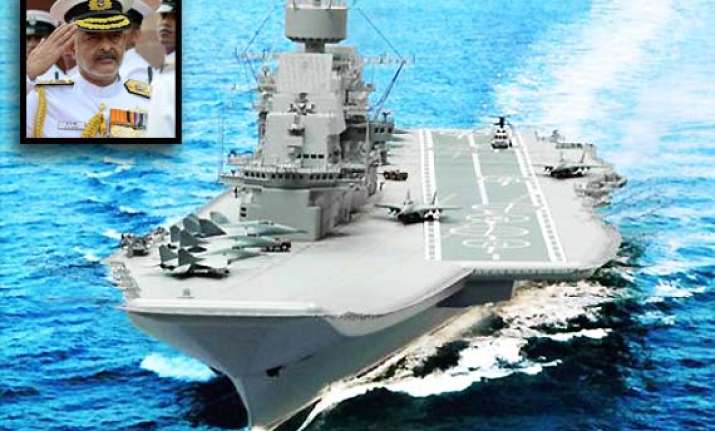 New Delhi, Dec 3: Viewing the rapid modernisation of Chinese Navy as a "major concern", Navy Chief Admiral D K Joshi today made it clear that India will protect its interests in the disputed South China Sea, even if it means sending forces there.
"Yes you are right. The modernisation (of Chinese Navy) is truly impressive... It is a actually a major major cause of concern for us, which we continuously evaluate and work out our options and our strategies," he told a press conference.
The Navy Chief was replying to a question on contingencies in South China sea to protect Indian interests there and impression about the Chinese Navy's modernisation.
Answering a volley of questions about South China Sea over which India had a tiff with China last year, he said although India's presence in that maritime region was not on "very very frequent" basis, it had interests like free navigation and exploitation of natural resources there.
"Not that we expect to be in those waters very very frequently, but when the requirement is there for situations where country's interests are involved, for example ONGC Videsh, we will be required to go there and we are prepared for that. Are we holding exercises for that nature, the short answer is yes," Joshi said.
Talking about Indian interests in the South China Sea, he said the first of it included freedom of navigation.
"Not only us, but everyone is of the view that they have to be resolved by the parties concerned, aligned with the international regime, which is outlined in UNCLOS (United Nations Convention on the Law of the Sea), that is our first requirement," he said.
Asked whether Navy will provide protection to ONGC Videsh's assets in the South China Sea, Admiral Joshi said that will require a government approval.
"In certain sectors ONGC Videsh has certain interests. It has energy exploration blocks, three in number, and since it is an area of Indian interest the Indian Navy, should a need be, would standby.... Of course we need to have government clearance. Should a requirement come, I am sure we will have that clearance," he said.
When asked how India would respond in light of Chinese Navy boarding and searching vessels in the South China Sea, the Navy Chief said its rules of engagement for that purpose remains the same.
"Firstly, we do not hope and expect that the situation would come where the rules of engagement come in play.  Secondly, rules of engagement are constant, they don't change from one area to another. In essence it is wherever your right of self defence, if it is needed, then certain options are available," he said.
Joshi explained that India has a few interests in South China Sea, including freedom of navigation.
"In South China Sea what are our few interests, first is freedom of navigation which in a manner will impact on sovereignty issues and freedom of navigation is actually a derivative of maritime zone of each of the littoral who are engaged in dialogue and discussion," he said.
Asked about the balance of naval presence in the Eastern and Western Sea boards, he said that some of the recent inductions are deployed in the eastern side in Bay of Bengal only.
"Three recent inductions such as the Shivalik class frigates INS Sahyadri, Satpura and Shivalik were commissioned there only. INS Jalashwa, the biggest vessel we have after the aircraft carrier, is also deployed there. The nuclear-powered submarine INS Chakra is operating from there and INS Arihant is also going to be there," he said.
The Eastern Sea Board takes care of China, while the Western Sea Board looks after Pakistan.