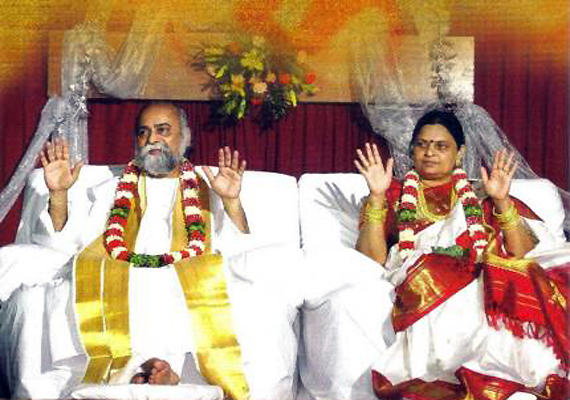 Chennai, Jul 7: India TV on Saturday night aired a live program in which Vijay Kumar Naidu alias Kalki Bhagavan and Amma Bhagawan were exposed. The allegations of land grabbing, drugs, sexual escapades are making strong rounds in the ashram.
Sri Kalki Bhagavan alias Vijay Kumar was born in Arcot district, Tamil Nadu, and at various times has also used names such as Mukteshwarand Sri Bhagavan.
He worked as a clerk at the Life Insurance Corporation in the early 1980s before becoming an administrator of a school in Rajupeta village in Andhra Pradesh's Chittoor District.  
Bhagavan and Amma claim to be two divine beings, or Avatars. They reside at Golden City, near Chennai. Their stated mission is to bring all of humanity into the Golden Age.  
Kalki is the name given to the tenth incarnation of Vishnu when Vishnu will appear on a white horse, wielding a sword, as destroyer of the wicked. Bhagavan is the name given to a superior guide, or a respectful form to address spiritual teachers or guides, as commonly referred to in guru traditions.
They claim that they will fully enlighten 64,000 people in the world. These people in a highly enlightened state of communion would transform the rest of the humanity by 2012.  
According to them, this state of enlightenment is offered to seekers through a process known as deeksha, which is a transfer of divine energy that is said to be so powerful it has the ability to break through the concepts and conditioning of our mind.
According to an ex-devotee for the darshan of Amma's padam the devotees pay Rs 5000 and for Special Darshan Rs 25,000.  
And for Foreigners they have 21 days package. And each devotee should pay entry fees. With the name of Amma Pooja the Kalki trust collected 240 Crores.  
Kalki trust is running 9 businesses, one of them is Real Estate which is running by Bhagvan's son he earned nearly 3,000 crores with the company.