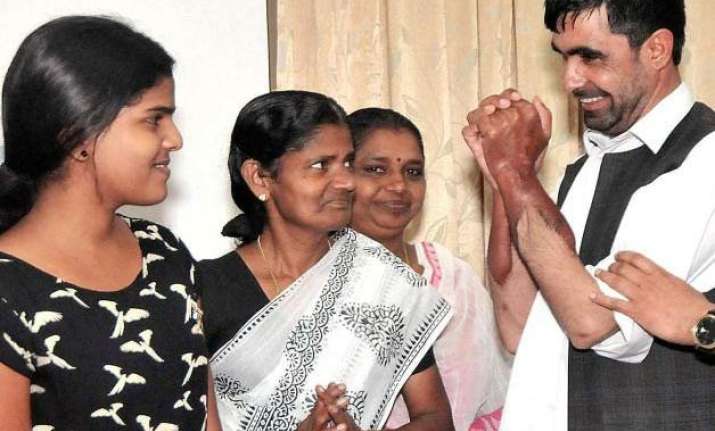 Kochi: When Dr Ashraf ghani, president of Afghanistan, recently visited India, he wouldn't have known that the "great friend" (Read: India) will carry out the relationship so well. That India's friendship won't only be diplomatic but would reflect on ground as well through common Indians.
Showing the true spirit of friendship, a hospital in India transplanted the hands of an Afghan military captain when he lost both his hands three years back in a war in Kandahar while defusing a land mine.
The transplant, rare in itself, was a marathon surgical procedure conducted by 20 surgeons involving 8 anaesthetics for the duration of almost 15 hours. By God's grace, it turned remarkably successful!
Second such surgery in itself in India, the transplant was conducted in Amrita Institute of Medical Sciences of Kochi and it liberated the life of 30-year-old Abdul Rahim from life-long dependency. Perhaps, his is the first case of twin-hand transplant on any citizen in Afghanistan.
ALSO READ: Latest organ transplantation rules suggest preferring Indians over foreigners
Apart from doctors who treated him, Abdul should also be thankful to Francisca, wife of a 54-year-old brain dead victim of an accident, who agreed to donate her husband George's hands to him.
ALSO READ: Goodness growing: 5 brain-dead donors give life to 23
It was not an easy task for her but she agreed after being counselled by the doctors and assured that her husband's hands will be replaced by prosthetic limbs to reduce deformity of the dead.
The brave-heart also agreed to donate her husband's liver and eyes to yet another needy, though the heart couldn't be transferred.
She and her daughter Alisha came to meet Abdul on Saturday. Tears welled up in their eyes after seeing George's hands on Abdul's arms. While the grief of losing the husband was visible, she was still happy that his organs atleast made somebody's life easy.
On the other hand, Abdul will have to be in the country for another 10 months for the subsequent physiotherapy treatment of his hands to make them more functional. As per Dr. Subramania Iyer, head and neck surgeon who led the team of 20 surgeons and 8 anaesthetics said, "Abdul's hand structure was good and the progress has been fast, driven largely by his will power." He told that two bones, two arteries, five veins, five nerves and 25 tendons were joined in each hand of Abdul.
Abdul reminisced, "We had defused 30 mines on the day. The 31st one burst in my hand. It was remote-controlled and the man who activated it got Rs 40 lakh for maiming me", he said. He was accompanied by wife Majibin, sister Gul Aram and elder son Muhabbat.